Pakistan agrees $5.3bn IMF loan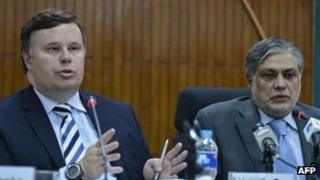 Pakistan's newly elected government has agreed a $5.3bn (£3.5bn) loan with the International Monetary Fund (IMF).
The three-year loan will replenish the central bank's reserves and buy time for the government to cut its budget deficit and fix the energy sector.
Prime Minister Nawaz Sharif won elections in May in Pakistan's first democratic change of government.
Among the new government's priorities are dealing with frequent power cuts, and increasing its tax collection.
"Technical and financial problems in the energy sector have led to large-scale power outages, which have depressed output and imposed hardship on the public at large," the IMF noted in its announcement of the agreement.
As part of the deal, the government has also agreed to cut its over-spending, in part by eliminating subsidies and tax loopholes in order to increase the amount of taxes it collects.
Pakistan also agreed to raise more money through privatisation, including the sell-off of energy assets.
"We have not carried the begging bowl in our hands, nor are we getting a grant," said Finance Minister Ishaq Dar, who led the Pakistani delegation during two weeks of negotiations with the IMF.
Pakistan's last government abandoned the country's previous $11.3bn loan programme in 2011, as it found the financial reforms imposed by the IMF too demanding.
The IMF still needs to obtain approval from its executive board for the new agreement, which is expected in September.