US trade gap at six-month high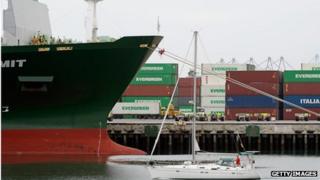 The US trade deficit increased by more than expected to $45bn (£30bn) in May.
The US Commerce Department says that is the highest level in six months.
Imports climbed to $232.1bn - the second-highest level on record - with car imports at an all-time high, followed closely by mobile phones.
Slack overseas demand contributed to a slowdown in exports from the US, which decreased to $187.1 billion in May from $187.6 billion in April.
Trade talks between the European Union and the US are scheduled to start next week, although France has called for the talks to be delayed amidst ongoing reports that the US spied on European institutions.
Recovery takes hold
While the widening trade gap surprised many analysts, the continued demand for foreign goods indicated that US consumers are continuing to feel the effects of a strengthening economic recovery.
A separate report showed consumer confidence reached its highest level in more than five years, partially on the strength of the improving US housing market.
Meanwhile the private payroll processor ADP indicated that the US economy added 188,000 jobs in June, the most since February.
Government figures on the US jobs market will be released on Friday.