Is the UK economy seeing the 'wrong kind' of green shoots?
Stephanie Flanders
Former economics editor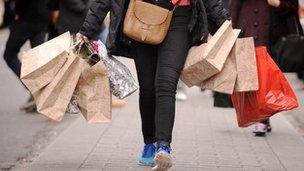 I hate green shoots. Or rather, I hate being asked about them, because when people ask whether I can see green shoots in the economy, they're not really asking about the first, tentative signs of growth. We've had those for ages. You don't see employment rise by more than 430,000, in a year, without quite a lot of green shoots.
No, what people really want to know is are we finally seeing the "proper" recovery we've been waiting for. Right now, I'm afraid the answer to that question is no.
The economy does seem to have more momentum than it has had for a while. With any luck, forecasters will be revising up their UK growth predictions over the next few months, not revising them down.
But, unfortunately, the growth we're seeing is still "the wrong kind": that is to say, it's still being driven almost entirely by spending by households, rather than investment by companies or net exports.
That does not feel like a very solid basis for the recovery, when most people's earnings are still falling, in real terms, and households are still sitting on a large amount of debt.
Today's PMI survey from the services side of the economy was better than expected, with the main activity index stronger, in June, than it has been in more than two years, and new orders rising to their highest level since 2007.
There's also been encouraging signs from manufacturing and construction - previously the weakest part of the economy.
All of this has forecasters expecting to see that the economy grew by at least 0.5% in the second quarter of this year, up from 0.3% in the first quarter.
Growth was so uneven in those first three months, with March a lot stronger than January, that the economist Geoffrey Dicks actually thinks the second quarter estimate could be a lot higher - even as high as 1%. But even growth of 0.5% would be the fastest we've seen in nearly two years (if you ignore the heavily distorted period around the Olympics).
Still, even that fact reminds us how far we are still from a "normal" recovery, or even the fairly mediocre upturn that the government was banking on in 2010.
Growth at an annualised rate of 2% would not usually be a cause for such celebration. And the recent revisions to past GDP data mean we are even further from our 2007 level of output than previously thought.
Michael Saunders, at Citi, calculates that UK living standards - real GDP per head - are now 7.6% lower than at the end of 2007. At this stage in past recoveries, income per head has typically been about 8% higher than when the downturn began.
What is more, nearly all of the meagre growth that we have seen in the past year has been due to growth in consumer spending.
You would always expect it to play a big role - it accounts for the lion's share of the economy. But it was depressing to see, in those new figures, that business investment had been even weaker than previously thought, with a record low rate of investment, net of depreciation in the first quarter, and business investment 30% lower than it was in 2007.
Exports in the first quarter of 2013 do turn out to have been slightly stronger than thought, but net exports have also played a minimal role in our recovery to date.
You might wonder where all that consumer spending is coming from, at a time when real household incomes have continued to fall. The answer, very clear in the revised numbers, is that it has come from households saving less.
The Office for National Statistics now reckons that households saved 4.2% of their income in the first quarter of 2013. That's down from 7.4% the year before, and the lowest in four years.
It's possible that households can continue to carry the recovery on their shoulders. After all, people have made some modest progress towards cutting their debt.
Figures out today from the Bank of England show that households, on average, increased the amount of equity in their homes by £8.8bn in the first quarter of 2013.
That's the 20th quarter in a row in which people have paid back more mortgage debt than they have taken out, after a decade in which things were very much the other way around.
But, real earnings are still falling. Household debt is still well above its long-term average, as a share of the economy. And the savings rate cannot fall indefinitely, to finance higher spending.
Mark Carney won't be the only one hoping that companies finally do start investing, as the Office for Budget Responsibility hopes - and exports start to show a lot more life. Otherwise he will face the same deeply sub-optimal choice that has faced at least the past two Bank governors, between imbalanced UK growth, and no growth at all.