Portugal borrowing costs rise amid looming crisis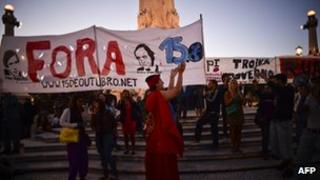 Portugal's borrowing costs have risen sharply amid fears of a growing political crisis in the country.
Yields on the country's benchmark 10-year bonds moved above 8% at one point, while the stock market closed down 5.3%.
Earlier this week, the resignations of two leading ministers put pressure on Portugal's coalition government.
The European Commission President, Jose Manuel Barroso, said he was following the situation "with concern".
Portugal received a bailout worth more than 78bn euros ($102bn; £67bn) in May 2011, on the condition it implemented austerity measures.
Long recession
Demonstrators have taken to the streets in recent days to protest against planned austerity reforms.
On Monday, Finance Minister Vitor Gaspar resigned, followed by Foreign Minister Paulo Portas, who heads the Popular Party - the junior partner in the coalition government.
The resignations came amid disagreements over Portugal's austerity path.
Prime Minister Pedro Passos Coelho has pledged to stay in office, but it is not clear whether the Popular Party will continue to work with him.
Local media reports say that two more ministers are expected to resign.
The President, Anibal Cavaco Silva, said he would be meeting members of all parties, including the prime minister, in the coming days in an effort to resolve the growing crisis.
Portugal has been in recession for two years and the economy is expected to contract by 2.3% this year.
'Delicate situation'
The sharp rise in bond yields suggests investors are less confident that Portugal will be able to repay its international debts.
"The political uncertainty in Portugal has really spooked markets," said Ishaq Siddiqi, a financial market strategist at ETXCapital.
"The spectre of another bailout for the country increases on fears of a collapse of the government [that] will result in the country not being able to meet its loan obligations with its international creditors."
Yields on Spanish and Italian bonds have also risen, while the stock markets in London, Paris and Frankfurt closed more than 1% lower.
Mr Barroso said: "The initial reaction of the markets shows the obvious risk that the financial credibility recently built up by Portugal could be jeopardised by the current political instability.
"If this happens it would be especially damaging for the Portuguese people, particularly as there were already preliminary signs of economic recovery.
"This delicate situation requires a great sense of responsibility from all political forces and leaders."