Egypt unrest pushes the price of oil to a 14-month high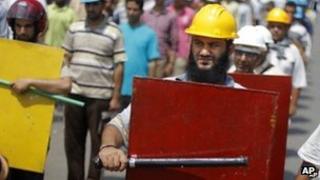 The price of US light crude oil hit a 14-month high on Wednesday to over $100 a barrel on concerns over political turmoil in Egypt.
The benchmark US crude rose $1.64 to $101.2 a barrel, its highest since May 2012, while Brent crude rose 1.76% to $105.76 a barrel.
As well Middle East worries, rising US demand for oil also boosted prices.
The US Energy Department said that weekly US crude supplies fell by 10.3 million barrels.
That was the biggest fall in 13 years and was more than three times the drop that had been expected.
It was partly due to a temporary reduction in supplies from Canada as well as increased demand from a refinery in Indiana that had just restarted work.
Flows
Traders also worried that the volatile political situation in Egypt could interrupt oil flows through the Suez Canal and the wider Middle East, which account for around 25% of the world's oil output.
The Egyptian president, Mohammed Morsi, is facing protests from millions of protesters, and the Egyptian military is threatening to disband parliament and put in place a new leadership.
The Suez Canal sees just over 2% of world oil needs pass through it daily.
The Suez Canal Authority, which operates the waterway, said it "has all the authorities needed for running the Canal without being limited by the laws and the systems of the [Egyptian] government".
The rises came despite economic signals from China earlier on Wednesday which suggested construction activity in the country was slowing down - the latest sign of weakening growth - and weakening growth in demand for raw materials - from the country.