General Motors, Chrysler, and Ford report strong sales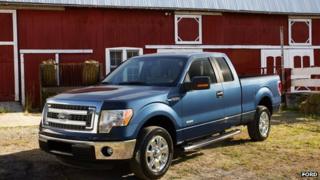 US car manufacturers reported their strongest monthly sales growth in June since the recession in 2007.
General Motors saw sales rise by 6%, Chrysler was up 8%, and Ford led the way with a 13% increase, led by truck sales.
Japanese carmaker Toyota reported the strongest sales of all, with a 14% rise.
"Sales in June were solid, and demand didn't skip a beat," said Toyota general manager Bill Fray.
Consumers, newly confident and attracted by easy credit, flocked to dealers to replace their ageing vehicles, which are the oldest ever on American roads. The average age of a car is more than 10 years old and trucks are more than 11 years old.
"The strength is at two opposite ends of the market: full-size pick-up truck sales are very strong," Edmunds.com senior analyst Michelle Krebs told the BBC.
"At the opposite end we're seeing small cars booming, as millennials (those under 30) finally get into the market after being frozen out of it during the recession."
Ford truck sales were up 20% and Chrysler's Ram trucks saw sales of more than 23% - both spurred on by a recovery in the US housing market, which has increased the need for heavy utility vehicles.
"The fundamentals for continued industry gains in new vehicle sales remain intact," said Reid Bigland, head of Chrysler's US sales.
'Healthy' forecast
Small vehicles like General Motors' Chevrolet Cruze have proven especially popular with young consumers, helping it to set an all-time monthly sales record in June.
The forecast for the rest of 2013 remains strong as well, despite worries about the possibility of interest rates rising as the Federal Reserve debates ending its expansionary monetary policy.
"America's families are better off than they were at the beginning of the year and they believe - with good justification - that the economic expansion is going to continue," said Mustafa Mohatarem, GM chief economist.
"Even moderate economic growth will be enough to keep the auto sales rate in the second half of the year at healthy levels."