Pensions: Annuity rates 'starting to rise'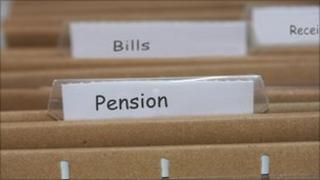 Annuity rates are starting to rise, experts say, offering some respite for older people who have saved for years for their retirement.
The rates available for annuities - which turn an individual's pension savings into annual retirement income - hit their lowest point last summer.
But all the major providers have increased their offers in recent times, with experts predicting more to come.
However, there are warnings about trying to guess moves in the market.
'Upward trend'
Nearly 400,000 annuities were sold to retirees last year, bought for an average of £28,000 from their pension pot.
The annuity that they were able to secure in this one-off deal had dropped by thousands of pounds compared with 2011.
But this year, rising gilt yields have fed through to increased annuity rates.
The most recent change was by Aviva. For a man aged 65 and partner aged 60 with a joint pension pot of £100,000, the firm has increased its annuity by nearly £100 a year from £4,856 to £4,955 - a rise of 2%.
"On my calculations there is plenty of room of an increase in annuity rates if yields stay at current levels," said Billy Burrows, of the Better Retirement Group.
He said that rates were on an "upward trend". However, he warned that delaying the purchase of an annuity by betting on a rise could be dangerous.
"If rates do improve it will be probably be a slow process," he said.
He said that annuity rates were one factor in this decision, but so was the state of the pension fund into which an individual has been saving.
"Generally speaking, those considering an annuity purchase should take as much time as they need to make their decision but once a decision has been made it normally makes sense to invest in the annuity without delay," he said.
Job threat?
Retirees can buy their annuity from any provider that they choose. A new code of conduct ensures that pension companies tell their clients that they can shop around.
People can also shop around for the type of annuity that suits them, not just the provider.
An improvement in the income available for retirement may encourage some people to quit their job, rather than working on into what was traditionally the retirement years.
This might be welcomed by some younger people struggling for work or promotion. A survey by KPMG suggested that 46% agreed that older members of staff needed to retire so that younger workers had a genuine chance of career progression.
However, business groups have long argued that there is no direct link between older workers staying on and younger people being stuck, as they are often in different jobs and individuals bring different skills.