Spain's jobless total falls in June in holiday boom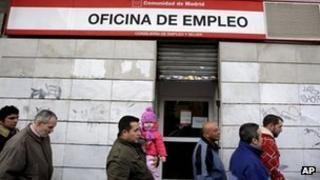 The number of registered job seekers in Spain fell again in June as more firms hired people on a temporary basis ahead of the peak summer season.
Official statistics showed 4.76 million people were registered as jobless, a 2.6% fall compared to May.
Spain's labour ministry said the non-seasonally adjusted drop was the best monthly drop on record.
However, excluding temporary holiday hiring, the number of registered job seekers actually rose by 996 people.
"Never has registered unemployment fallen so much in a single month," said Engracia Hidalgo, Spain's state secretary for employment.
But Ms Hidalgo acknowledged that Spain had "much work" ahead to create more stable employment opportunities.
Capital Economics chief European economist Jonathan Loynes said unemployment remained far too high.
"The key point is the level rather than monthly changes. It is going to take a very long time for Spanish employment to reach anything like ordinary levels."
The ministry did not provide a fresh estimate for the country's unemployment rate.
'Demoralising'
On Monday, the European Commission's statistics office, Eurostat, said Spain's unemployment rate for May was 26.9%, the highest in the eurozone.
Youth unemployment is much worse with 56.5% of 18-25 year-olds out of work, according to Eurostat.
"The situation is demoralising for young people. I'm not very optimistic in the short term," said twenty-nine-year-old unemployed teacher Pablo from Madrid as he waited outside the employment office.
Victor, a 24-year-old unemployed construction worker, said it was difficult for young people to find good jobs.
"Young people are at a disadvantage. They have made laying us off very cheap. Everything appears to be quite negative," he said.
Spain, which is the eurozone's fourth-largest economy, has seen its jobless rate rise every quarter since mid-2011 as it struggles to recover from the collapse in its once-booming property sector.
Last month, credit rating agency Fitch said it expected Spain's unemployment rate to peak early next year at 28.5%.
The Spanish government itself is a bit more optimistic, forecasting the jobless rate will ease to 26.7% over 2014 and drop back further to 25% in 2015.