Apple stores raided by French competition regulator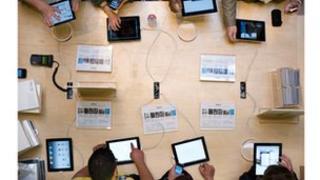 French competition authorities have raided several Apple stores and distributors.
The Autorité de la concurrence confirmed to the BBC that the raids took place last week.
A spokesman would not say why it carried out the inspections, but Apple has been accused of favouring its own stores with supplies of new devices.
Earlier this year failed French firm, eBizcuss, took legal action claiming Apple had limited the supply of phones.
With 15 stores, eBizcuss was the biggest reseller of Apple goods in France until it collapsed last year.
According to a report in French newspaper, Les Echos, eBizcuss also complained to the French competition regulator.
When contacted Apple said it was not commenting on the raids or the reason behind them.
Apple scrutinised
Last weeks raids are the latest action by European authorities directed at Apple.
In March the European Commission asked for more information about the deals between Apple and the operators of mobile phone networks.
It said that those deals could potentially hamper other phone makers.
French authorities are also investigating the terms offered to suppliers of software to Apple's app store.
Some French tech firms have complained that Apple imposes unfair restrictions.