Zynga appoints Microsoft Xbox chief Don Mattrick to top job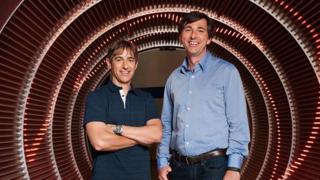 Social gaming company Zynga has named former Microsoft executive Don Mattrick as chief executive.
Mark Pincus, the company's founder and current CEO, said he will stay on as chairman and chief product officer.
"Zynga is a great business that has yet to realize its full potential," said Mr Mattrick in an email to employees.
At Microsoft, Mr Mattrick was head of interactive entertainment, the key division that includes Xbox, which is about to launch a new console.
Before that, he helped develop popular games like "The Sims" and "FIFA" for Electronic Arts.
"I've always said… that if I could find someone who could do a better job as our CEO I'd do all I could to recruit and bring that person in," said Mr Pincus in a separate email to staff.
"I'm confident that Don is that leader."
Shares in the company, which are down by more than 50% for the year, shot up once word of the leadership change was first broken by the website AllThingsD.com.
At Microsoft, Mr Mattrick helped turn the Xbox business into a profitable venture after years of losses. His departure comes just as Microsoft prepares to launch a new version of the console, the Xbox One.
Gamers have attacked the high price, Microsoft's plan to require an internet connection at least once a day and attempts to limit the sharing of used games.
Last month, Microsoft reversed its position on the Internet connection and said it would allow game sharing.
The search for the next Farmville
Zynga has had difficulty almost since its stock market debut in December 2011, when it was valued at $1bn (£656m). News of the appointment sent Zynga shares more than 10% higher.
Struggling to replicate the success it found with games like FarmVille and Words With Friends, it bought OMGPOP, the company behind the popular game Draw Something, for $200m (£131m) in March of 2012. It shut OMGPOP less than a year later.
Mobile has also proven challenging for the company, which used to rely on its close ties with Facebook for users.
"The gaming market is an especially tough one, particularly as user behaviour shifts dramatically towards gaming on phones and tablets," said Clark Fredricksen, of eMarketer. "It's a world of hit-makers and miss-hits."
Recently the company has looked to online gambling as another revenue stream, but that has not yet had an impact on the bottom line. More than 20% of its staff has been let go in the past year, and it has shuttered several offices.
Mr Pincus is the second high profile founder of a social media company to resign, following Groupon chief executive Andrew Mason's departure in February.