Payday lenders could face advertising ban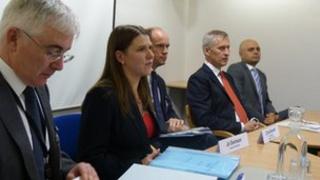 Payday loan companies could face tougher restrictions on where, and how, they are allowed to advertise.
That is one of several options to be considered by the Financial Conduct Authority (FCA), following Monday's industry summit in Whitehall.
Lenders, regulators, charities and government ministers all met to consider controls on payday lenders.
Last week, the current regulator, the Office of Fair Trading, referred the issue to the Competition Commission.
Meanwhile the FCA, which takes over regulation of the sector in April 2014, is to start a consultation exercise on tougher rules in September.
"They now have to deal with a regulator with some real teeth," said Treasury minister Sajid Javid.
"They are going to feel the hand of the regulator on their shoulder and they better get used to it," he said.
Payday lenders have been accused of a variety of poor practices, including aggressive debt collection and failing to work out whether repayments are affordable.
The industry itself said that summit was a constructive and helpful meeting. Russell Hamblin-Boone, of the Consumer Finance Association, said the sector would consider changing its practices further.
"There are some things we can look at incorporating into our code of practice... such as additional measures on advertising and marketing," he said.
Options
Martin Wheatley, the chief executive of the FCA, said an advertising ban was one option they would consider.
"If payday loan companies are genuinely targeting a particular income bracket- people with jobs - why do they advertise on daytime television?" he said.
Mr Wheatley said there was a particular problem when advertising was targeted at young people, students, or even children.
But he also said that any restrictions would have to be proportionate. He said a total advertising ban would be "an extreme option".
Other options that the FCA will consider include:
a limit on the number of loans any individual can take out
a limit on the number of loans that can be "rolled over"
better affordability assessments
a new central data collection facility to improve credit ratings
a time lag between loan approval and payment
a cap on the total cost of credit.
Warning
Before referring the issue to the Competition Commission last week, the Office of Fair Trading (OFT) wrote to 50 of the top payday lenders.
It warned them that they had three months to prove that they were transparent and responsible lenders.
Of the 21 companies that have so far responded, two have surrendered their licences altogether, and four lenders have decided to give up offering payday loans.
Twenty nine lenders have yet to respond.
Stella Creasy, the Labour MP for Walthamstow, was critical of Monday's summit.
"I fear we'll see more talk and no action," she told the BBC.
She called for a cap on the total cost of credit, so that borrowers would know the maximum they could be charged for any loan.
She said that some other countries had such a system in place, such as Japan, where the total cost of credit is set at a maximum of 15% of the loan.
Credit unions
Consumer group Which? welcomed Monday's moves, but called for more concrete action to help people borrow money affordably.
"It's clear the industry must not wait for new rules to come in and must clean up its act without delay," said Richard Lloyd, the executive director of Which?.
"More action is also needed by the whole of the credit industry and government to come up with new ways of providing affordable credit to people that need it and can afford it," he said.
The government has already given £38m to credit unions, to try to help them become viable lenders, and to provide an alternative to payday lenders.