UK mortgage approvals at three-year high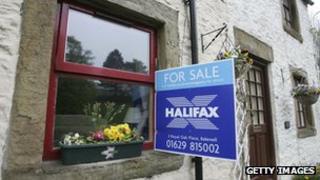 More mortgages are being approved than at any time in the past three and a half years, according to the latest figures from the Bank of England.
Some 58,242 home loans were approved in May 2013, up from 54,354 in April.
The figure is the highest since December 2009, and will be seen as further evidence of a recovery in the housing market.
But the amount of money being lent to businesses is continuing to fall.
Loans to non-financial businesses fell by £1.3bn in May compared with the previous month, the Bank of England's figures showed.
Over the past year, business lending has fallen by 3.6%, in spite of the government's Funding for Lending Scheme (FLS).
The scheme was supposed to encourage banks and building societies to make more loans.
But since the scheme started in August 2012, it appears to have benefitted homeowners more than businesses.
Lower demand
The Bank of England figures confirm a strong recovery in the mortgage market which was reported by the banks last week.
The British Bankers' Association (BBA) said mortgage approvals had increased by 24% in May, compared with a year earlier.
"No real surprise that the mortgage approvals numbers were strong," said Philip Shaw, an economist with Investec.
"They had been flagged from a firm report from the BBA a week or so ago. The Funding for Lending scheme is helping to increase mortgage availability and push down mortgage rates," he said.
On business lending, the Bank of England's figures were slightly better than the BBA's. The industry said loans to non-financial businesses had fallen by £1.7bn in May.
Lower demand from the construction sector is one reason behind the fall in business lending.
The Bank of England has argued that FLS will take longer to filter through to business loans, and it expects the situation to improve later this year.
Below peak
Although the Bank of England figures show a significant improvement in the demand for flats and houses, the number of mortgage approvals is still less than half what it was 10 years ago.
In December 2003, there were 133,000 mortgages approved by banks and building societies.
'While the numbers continue to rise, they are still well below what they were at the peak of the market before the crisis," said Mark Harris of the mortgage broker SPF clients.
"The health of the housing sector is showing a slow and steady improvement but it is by no means out of intensive care just yet," he said.