Coal mines seek pension rescue deal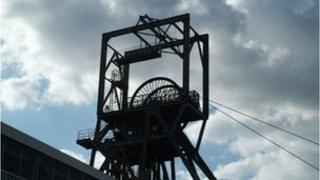 A large part of the UK's remaining coal mining industry is expected to be taken over by the state-established Pension Protection Fund, the BBC understands.
The operator of the mines, formerly UK Coal, is expected to enter administration in the coming days.
The PPF is then expected to take on the assets as well as a pensions liability estimated at about £550m.
The deal is expected to keep the mines running and save jobs, but lead to a cut in miners' pensions.
There are about 7,000 current and former mine workers whose pensions could be affected, with the Financial Times reporting they face a reduction of 25%.
A spokesman for the PPF confirmed that it was "one of a number of parties involved in discussions about the future of operations at UK Coal", but said it was not able to comment further while discussions were continuing.
"Our role is to protect the interests of pension scheme members and minimise any resulting costs to our levy payers," the spokesman said.
'Unprecedented' deal
The PPF is responsible for bailing out struggling pension schemes, but does not usually take on the control of the companies backing those pension schemes.
It was established by the government 10 years ago, but is funded through a levy on pension funds.
John Ralfe, a pensions consultant, described the expected deal with UK Coal as "unprecedented".
He told the BBC's Today programme that the size of the pensions liability was significantly bigger than any other the PPF had handled in its 10-year history.
"This is the single biggest hit by a country mile that the pension fund has had," he said.
UK Coal has been suffering significant financial difficulties, and underwent restructuring last year. It suffered a costly fire at the Daw Mill pit in Warwickshire earlier this year.
It now operates two deep mines and six surface mines under UK Coal Operations, which is a subsidiary of UK Coal Mine Holdings.
It is not clear which business is due to enter administration as part of the rescue deal.
Under the plans the pits will continue to operate, safeguarding 2,000 jobs.