Network Rail apologises for delays on West Coast line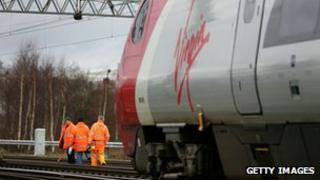 The railway infrastructure company, Network Rail, has apologised to passengers for its "unacceptable performance" on a part of the London to Scotland route.
The section covers the southern end of the West Coast Main Line, which carries Virgin Trains.
Network Rail said it was at fault for 71% of the delays to Virgin Trains on this route between 26 May and 22 June.
Half of these were due to track faults and problems with overhead cables.
Slightly more than 12% of the delays were the fault of Virgin, which has already said it is taking action against Network Rail for additional compensation.
Network Rail said earlier this week that it had started a £40m investment programme to improve the West Coast line.
Below average
The problems meant that 84.5% of Virgin trains ran on time in the four-week period, a percentage well below the national average.
Overall, train companies ran 93.1% of their trains on time, a slight improvement on the same period last year.
Only two other companies failed to reach the 90% mark - East Coast (87.8%) and London Midland (88.5%).
The London to Tilbury and Southend company, c2c, was the UK's best performer, with 97.8% of trains running on time.