China finds 'violations' in lending by state-owned banks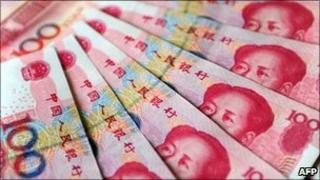 China's National Audit Office (NAO) has said that some state-owned banks "violated" lending regulations.
It said said 28.4bn yuan ($4.6bn; £2.5bn) of loans had been issued by some banks for projects without proper procedures or necessary guarantees.
The regulator also reported that 18.4bn yuan was "embezzled" by clients, according to the Xinhua news agency.
China has been trying to impose more discipline on its banks amid fears of bad loans impacting its economy.
The Xinhua news agency report said that the NAO had retrieved 22bn yuan worth of illegal or embezzled loans and authorities had prosecuted 693 people in relation with those loans.
"This is a significant development. It shows that the authorities realise that bad loans is a massive issue and that they need to rein it in," Shaun Rein of China Market Research Group told the BBC.
'Serious crisis'
After the global financial crisis, Chinese banks - led by the state-owned institutions - lent out record sums of money in an attempt to help maintain China's rapid growth rate.
While the move helped cushion the impact of the crisis on China's economy, it has created its own set of problems.
There are fears that the availability of easy money may have created asset bubbles - especially in the property sector.
At the same time, critics have expressed concerns that some of these loans may not have been invested in the right kinds of projects.
The broader concern is that if China's growth slows too fast, or if asset prices decline sharply, some borrowers may not be able to repay some of these loans.
Analysts say that bad loans could threaten China's growth going forward.
"We are not facing a Lehman moment in China tight now," said Mr Rein, referring to the collapse of Lehman Brothers in the US at the height of the financial crisis in 2008.
"But if they don't stop the problem, and it is allowed to balloon, we could face a serious crisis."
However, Mr Rein added that Chinese authorities had indicated in recent days that they were aware of the issue and was determined to tackle it.
This week China's central bank temporarily turned off the flow of cheap money in an attempt to reduce the reliance of banks on credit.