UBS France fined 10m euros amid tax evasion probe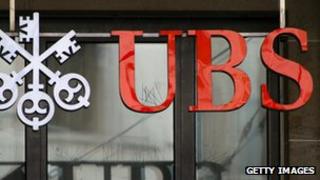 The French unit of UBS has been fined 10m euros (£8.5m; $13m) by regulators for failing to tighten proper controls on money-laundering and tax evasion.
UBS and its French branch are being formally investigated for allegedly helping wealthy clients open undeclared bank accounts in Switzerland.
The bank rejected the "contentious nature" of the decision and said it was considering lodging an appeal.
Regulators said the measures taken by UBS had been "lax".
UBS and UBS France earlier this month were placed under formal investigation over suspected "complicity in illegal sales practices". Investigators are examining whether UBS staff broke a French law against "illicit solicitation" by actively approaching potential clients in France.
'Trans-border activity'
Paris prosecutors, who are leading the investigations, are also looking into whether UBS set up a shadow accounting system that masked transfers between French and Swiss bank accounts.
The ACP, the Bank of France's regulatory arm, on Wednesday said that the bank had waited more than 18 months after receiving final warnings in 2007 by authorities to "rectify trans-border activity" amid "serious" suspicions of tax evasion and illegal sales practices.
It also said that the bank had failed to prevent UBS headquarters from authorising staff to transmit lists of prospective clients interested in opening undeclared overseas accounts.
A statement by UBS said: "We disagree with many of the disciplinary commission's conclusions. UBS will further analyze the decision by the commission and will consider whether to appeal at the appropriate time."
"UBS does not tolerate any activities intended to help its clients circumvent their tax obligations."
The allegations against UBS originally came to light after former staff blew the whistle on the practices that involved hundreds of retail and corporate clients.
An anonymous letter was reportedly sent to ACP suggesting that parallel accounts were opened in Switzerland but undeclared in France, which is illegal under French law.
The letter said a special record was kept between 2002-2007 listing undeclared bank accounts that had been opened by corporate clients.
'Disciplinary action'
Former staff also alleged that UBS bankers regularly mingled with affluent people at sporting events and musical concerts - including some sponsored by UBS - in order to seek out possible clients for tax evasion.
The magistrates investigating the affair have sent a list containing the names of 353 people suspected of having held a Swiss account to Swiss authorities and have requested details.
Under French law, being placed under official investigation means there is "serious or consistent" evidence to implicate a suspect in a crime. But it does not necessarily lead to a trial.
UBS said: "This is an issue from the past and we are pleased to note that the disciplinary commission acknowledges in its report that UBS France has taken appropriate steps to strengthen its compliance framework since 2009."
"UBS France has operated under a new leadership since 2012 and has continuously strengthened its rules and processes. UBS France has the fullest support of its parent company."