Bank of England warns on risk from interest rate rises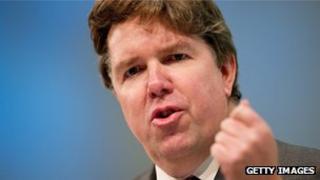 The Bank of England has warned that "significant" numbers of people could face financial problems when interest rates start to rise again.
Paul Tucker, the Bank's deputy governor, has asked regulators to investigate the issue immediately.
The Bank's base rate has remained at a record low of 0.5% since March 2009.
If rates rose by one percentage point, to 1.5%, the Bank said households accounting for 9% of mortgage debt would need to take action.
To afford that sort of rate rise, the Bank said those affected might have to consider earning more money, working longer hours, or cutting essential spending.
If rates were to rise by two percentage points, to 2.5%, that figure would rise to 20% of mortgage debt.
The Bank's Financial Stability Report said: "Significant cohorts of UK borrowers could experience financial difficulties", if rates were to rise.
However, on Tuesday, in his last public appearance as Bank of England governor, Sir Mervin King suggested it would be a long time before interest rates increased.
He said world economies were nowhere near a return to "normal" interest rates.
City economists currently expect a rise in rates in about two years' time.
Philip Shaw at Investec said the UK base rate would probably go up to 0.75% in the spring of 2015.
Stability threat?
Mr Tucker also warned that rate rises could also threaten banks. He said there had been a "progressive search for yield", as institutions hunted for better returns.
He warned that the authorities "need to be alert to whether stability could be threatened by excessive leverage or liquidity risk building up in any potentially vulnerable parts of the financial system".
The dangers had been underlined by the sharp fall in share prices over recent weeks, he added.
Mr Tucker made his remarks at the launch of the Bank of England's latest Financial Stability Report.
He went on to say that regulators including the Financial Conduct Authority (FCA) should study how vulnerable borrowers and financial institutions might be to "sharp upward movements" in long-term interest rates.
The FCA and the Prudential Regulation Authority (PRA) should report back by September this year, he said.
Cyber attacks
The Bank's stability report also highlighted the problems of cyber attacks on the banking system.
Mr Tucker called for greater efforts by the industry to tackle the problem.
He said HM Treasury, working alongside regulators, should improve resistance to hackers, and start a programme to test banks' resilience to cyber attacks.