News International changes name to News UK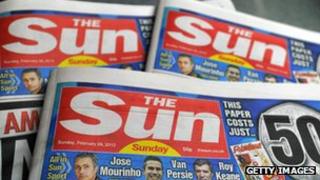 News International, the media company behind newspapers including the Times and the Sun, has changed its name to News UK.
The rebranding comes as part of a broader revamp of the company, owned by Rupert Murdoch, following the phone-hacking scandal.
The company has recently announced editorial changes at both the Times and the Sun.
It was forced to close its News of the World title in 2011.
Former News International chief executive Rebekah Brooks is among those facing charges over the hacking scandal.
The BBC's media correspondent, David Sillito, says the new name is an attempt at "brand decontamination" following months of negative headlines surrounding the News International brand.
'Fundamental changes'
In an announcement on its rebranded website, News UK said the new name and logo were "designed to convey a more coherent and logical identity for the new parent company across the globe".
The News UK logo is based on the new logo of parent company News Corp, which was unveiled earlier this year.
News Corp is in the process of being split into separate publishing and entertainment companies.
The more profitable entertainment business is being spun off under the name 21st Century Fox.
News UK said the name change followed "fundamental changes of governance and personnel that have taken place to address the problems of the recent past".
"New policies and procedures are in place across the company, its main titles are all under new leadership and the executive team has been transformed," the company said.
Several News International journalists, along with Ms Brooks, have been arrested in connection with phone-hacking since 2011.
Both of the groups major titles are set for changes in editorship.
Last week, the editor of the Sun, Dominic Mohan, was replaced with News International's former director of operations David Dinsmore, while the Times is still to appoint a new permanent editor following the resignation of James Harding in December last year.
Speaking on BBC Radio 5 live, Mr Dinsmore said the new name reflected the desire to join up the group's newspaper brands around the world in preparation for the split with 21st Century Fox.
"The publishing side has a great new era ahead of it, and it makes a lot more sense to join up the brands around the world," he said.