Sir Mervyn King: 'Normal' interest rates a long way off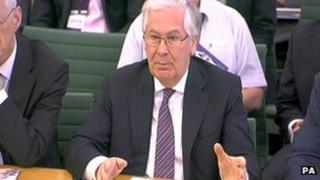 Bank of England governor Sir Mervyn King has warned that world economies are "nowhere near" a return to "normal" interest rates.
Sir Mervyn was speaking in his last public appearance as governor, in front of the Treasury Committee.
He said that the unwinding of stimulus measures and raising of interest rates would only come after a significant economic improvement.
He also criticised governments for failing to do enough.
Sir Mervyn warned that indications from the US Federal Reserve that stimulus measures would be wound down were being misinterpreted.
"I think people have rather jumped the gun thinking this means an imminent return to normal levels of interest rates. It doesn't," he told MPs.
"Until markets see in place policies to bring about that return to normal economic conditions, there is no prospect for sustainable recovery and without that prospect for sustainable recovery, markets understand that it will not be sensible to return interest rates to normal levels."
Not 'blown it' yet
He said governments had not done enough to take advantage of the time afforded by economic stimulus measures, including the Bank of England's programme of quantitative easing (QE), to introduce policies that would "ensure a sustainable economic recovery".
"They haven't blown it yet in the sense that there's still time, but they haven't [enacted the policies] yet."
Stock markets have been hit in recent weeks by concerns over when and how stimulus measures, particularly from the US Federal Reserve, will be wound down.
Sir Mervyn denied that Fed chairman Ben Bernanke had been guilty of a failure of communication, and pointed out that the Fed was planning only to reduce the rate of its asset buying from its current rate of $85bn a month, rather than bring it to an end completely.
The governor has been an advocate of expanding the Bank's own QE programme, but has been outvoted by other Monetary Policy Committee (MPC) members at recent meetings.