Family values help Greek shipping business go global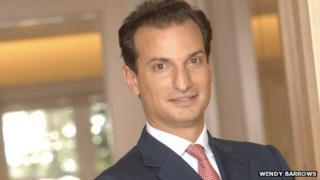 When George Logothetis first joined the family business in 1993, Lomar Shipping was a small London-based company with just three vessels.
Today, Lomar is a subsidiary of what has grown into the Libra Group, an international conglomerate with 30 business units across 26 locations.
It has all taken place under George's watch, though he did not have such grand ambitions 20 years ago.
"The aim then was to build a respected and well-run shipping company, and to maintain and enhance the unity of my family into the next generation," he says.
"At that time there were no plans for Libra. That came later."
'In the blood'
George, the eldest of four brothers, was brought up in London in a Greek shipping family, his father Michael having started Lomar in 1976.
As a teenager, George spent summers abroad, learning the business.
"I remember many discussions with my father all the time, at the gas station, on holiday. He used to bring the telegrams and the faxes - or telex as it was back then - back home.
"He used to teach me. It was very much part of our blood, part of our culture as a family."
Less than two years after joining Lomar, at the tender age of 20, George took over running the business. He set about growing the firm, and over the next 10 years built up a fleet of more than 70 ships.
Taking time out
The idea to diversify came to him while he was on a three-month sabbatical in New York in 2003.
Though it might seem unusual for the chief executive of a big business to take three months off, this is something he still does, with his next break coming up this month.
"The 'George sabbatical theory'," he laughs. "When I started working at 18 I said to myself that I would work like crazy for five years, but every five years I would take some time off to reflect about the next five years."
He does something different each time. The first time he went travelling around Asia for three months. The second time he went to New York to study as he had never been to university and wanted to see what it was like - 15 months later he would move to the city full-time.
When he's on sabbatical, he cuts himself off completely from work emails and phone calls.
"Ideas need space to be born. In today's world of a thousand emails and constant information being pumped into you, there's something very inspiring about being cut off for a certain amount of time," he says.
From ships to planes
And in 2003 the time seemed right to cash in on ships. The shipping markets were up, helped by a boom in Chinese consumption and growth in world trade.
Ships that had been bought quite cheaply were suddenly worth a lot more. Planes, on the other hand, were at a cyclical low and were relatively cheap.
So the company sold off nearly all its ships, bought some planes and set up an aviation leasing company, and the Libra Group was born.
As well as making financial sense, as a first step to diversify, moving into planes seemed like a logical move because of the similarities between shipping and aviation.
"You've got transportation assets, depreciating assets with limited life. A lot of the banks that financed us in shipping also have aviation divisions," George explains.
Belief in employees
After aviation came moves into real estate, hospitality, energy and construction, to name a few. And then back into shipping again in a big way from 2009.
But for a company that had only dealt with shipping, how did it go about breaking into these other sectors?
"We designed a framework of all the places in the world that we wanted to have an office and representation in," George says.
"Next to each place we put the name of a person that we knew - a family member, a friend or an employee."
These people were sent out to different locations and given the chance to learn new businesses.
For instance, the head of the group's real estate business in the US was originally trained as a ship's captain.
He admits that on the surface of it, "inappropriate people were sent to the appropriate places", but the key was having people who were driven, flexible and loyal, and believing in them.
Of course, they weren't all success stories.
"We have had our failures. We don't flaunt them but we try and learn from them."
Greek investments
This belief in people is something that George is proud of and he thinks the group has maintained a family culture, even though it is global today.
Indeed it is still very much a family company - family photos adorn the cabinet at the end of the office as if to make the point, and George's three brothers are all involved with the business too.
"We are more proud about how we've built [the company] as opposed to what we've built," says George, "because we have built it on the basis of traditional Greek family values."
The Greek heritage has also played a part in Libra's desire to invest in crisis-hit Greece. The group owns a handful of hotels there, some solar facilities and has set up internship and entrepreneurship programmes.
"We're big believers in Greece," he says. "We've felt compelled out of the crisis to help."
However, he says, it is not just duty, but also opportunity driving this.
"We have started to see movement in Greece in our businesses there. Movement predicates growth," he says, and points to the fact that advance bookings at Libra's Grace hotels in Greece are 30% higher than they were this time last year.
So what next for this international business with Greek family values at its heart?
Perhaps surprisingly, there are no plans at present to branch out any further. "With any growing business there's a time when challenges can veer into dysfunctionality and that is the point when you know your limits have been breached," George says, hinting that the firm has reached those limits, at least for the time being.
Instead, his goal is simply for the business to remain true to its roots.
"If we cannot preserve and protect the family feel of the group then I feel we will have failed."