Vodafone agrees 7.7bn-euro deal to buy Kabel Deutschland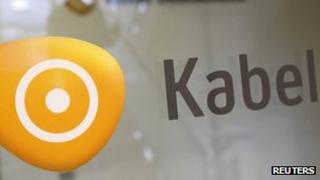 UK telecoms group Vodafone has agreed with the board of German cable operator Kabel Deutschland to buy the business for 7.7bn euros (£6.6bn; $10bn).
Vodafone is offering shareholders 87 euros per share in cash, a bid the Kabel board said it would now recommend to shareholders.
Vodadone had faced a potential bidding war with John Malone's Liberty Global after it made a rival offer.
Liberty had proposed an offer thought to be worth about 85 euros per share.
Vodafone's offer included the purchase price of 84.50 euros per share plus the 2.50-euro dividend announced by Kabel in February - a bid Kabel's management considered "attractive for shareholders."
It "adequately reflects both the strategic value of Kabel Deutschland to Vodafone and the company's growth prospects," Kabel said in a statement. Vodafone will also take on Kabel's debt of £2bn.
The acquisition would mark a change in strategy for Vodafone, which has largely focused on mobile phone services in Europe.
Vodafone is making its first foray into consumer broadband and television, and tapping into the so-called "quad-play" market in Germany which is growing, but still lagging behind France and Spain.
"Quad-play" or "multi-play" services offer digital TV, broadband and fixed and mobile telephony services to customers.
Bundled packages allow customers, for example, to watch television on numerous devices from tablets to laptops. Cable lines also carry voice calls and Internet at speeds faster than those usually offered by telecom operators.
The deal will give Vodafone access to 32.4m mobile customers, 5m broadband and 7.6m TV customers in Germany.
"German consumer and business demand for fast broadband and data services continues to grow substantially as customers increasingly access TV, fixed and mobile broadband services from multiple devices in the home and workplace and on the move," Vodafone chief executive Vittorio Colao said in a statement on Monday.
"The combination of Vodafone Germany and Kabel Deutschland will greatly enhance our offerings in response to those needs."
In the past financial year to March, Kabel made sales of 1.83bn euros with pre-tax profits of 226m euros.
Counter-offer?
Liberty, which owns the UK's Virgin Media, also had made a preliminary approach, with market analysts suggesting the offer could be in the region of 7.5bn euros (£6.3bn). The company had declined to give details.
Liberty's bid is the latest move in an ongoing mission by billionaire founder John Malone to expand its presence in Europe.
"There remains the possibility of a counter-offer from Liberty Global. However, we believe Liberty's appetite may be tempered by the significant regulatory risks of such a transaction," JPMorgan analysts wrote in a note to clients.
Liberty Global bought UK cable TV operator Virgin Media for $23.3bn earlier this year.
Kabel Deutschland shares were up 1.83% on the news in noon trading, while Vodafone's stock was flat.