Town centres 'missing out on new retail development'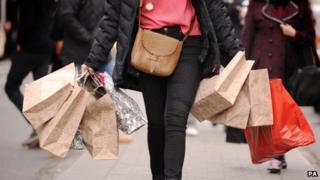 Planning rules are doing little to coax local authorities into locating big new retail developments in town centres, research suggests.
Developers in England have applied for twice as much shopping space out-of-town as in-town so far this year, the study by Estates Gazette found.
Out-of-town retail also made up over half of all the applications last year.
Major new retail developments have been thin on the ground since the downturn, but some are still in the pipeline.
The Estates Gazette tracks their progress. The schemes in question are all more than 50,000 sq ft.
It said town centre schemes accounted for 68% of overall floor-space applied for in 2010. So far this year, it stands at just 27%.
'Vital cog'
The Town Centre First planning policy, which came into effect last March, is supposed to require planning authorities to encourage development within town centres before looking out at out-of-town sites.
This data suggests councils are not always implementing the new strategy.
According to Estate Gazettes, in 2012 there were 17 applications for either out-of-town or edge-of-town-centre developments, in contrast with just seven town centre schemes.
Of the 10 out-of-town developments, four have already received consent, one has a recommendation to grant approval and the other five remain undecided.
But the four schemes already approved make up 49% of the total space applied for.
Edward Cooke, director of policy and public affairs at the British Council of Shopping Centres, said the figures were worrying.
"The government's Town Centre First planning policy is a vital cog in rejuvenating towns centres," he said.
"However, there is increasing concern that the policy is not being put into practice by enough local councils, and the latest figures from Estates Gazette seem to provide evidence of this.
"We strongly believe that local authorities need to be more creative and proactive in encouraging retail investment in their town centres, and seriously consider the long-term impact of easier-to-deliver out-of-town solutions."
Green light
With out-of-town and edge-of-town planning applications now apparently forming the bulk of big retail applications, some are wondering whether local authorities are taking the easy option.
But local authorities are under enormous pressure to save money and boost growth.
Out-of-town retail schemes are usually far easier to build and deliver than those in town.
Just last week, the retail expert and TV personality Mary Portas spoke of her frustration when approval was given for Tesco to build a huge superstore in Margate, one of her Portas Pilot towns.
She was asked by the government to attempt to breath new life into struggling town centres with her review of the High Street.
Margate was given £100,000 by the government to experiment with new ideas and try to rejuvenate its town centre.
But Communities Secretary Eric Pickles ultimately gave this controversial development the green light despite huge local opposition.
Following the decision, Ms Portas tweeted: "A sad, sad day for Margate... Government is 'Town Centre first' is it?"
A spokesman for the Department for Communities and Local Government (DCLG) later said: "As the decision letter sets out, the government agrees with the independent planning inspector that the proposed development could prove to be a positive benefit to the High Street, and could encourage footfall along the seafront and into the High Street."
Many local traders are not convinced, and are set to appeal the decision.
Meanwhile in a separate development, Planning Minister Nick Boles has reportedly said that developers should be allowed to build on fields if they are "environmentally uninteresting".
The Daily Telegraph said he made the remarks in a letter to Health Minister Anna Soubry who wrote to his department to warn that housing was being built in the Green Belt.
The DCLG said that, while it did not comment on correspondence between ministers, there was strong protection for the Green Belt and other areas such as Areas of Outstanding Natural Beauty.