Money-off voucher trend shifts to small stores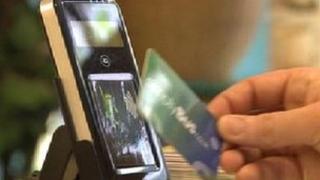 If you walk up any High Street, almost every national retailer will be offering some kind of reward card.
Independent stores tend to find that setting up similar schemes on their own can be too expensive.
But now, there are examples of small shops clubbing together to make the most of consumers' spending power by offering loyalty schemes.
One major advantage, experts say, is that some of these vouchers can be used in a range of stores, so do not become useless if a retailer goes bust.
Voucher competition
One pilot project is the MoLo scheme which links up 25 traders in Reading. These stores upload money-off vouchers on to a central website which customers can access either via a mobile phone or by tapping a plastic smart card on a reader in a store.
Guy Douglas, from the Association of Town and City Management, is leading the project and is talking to representatives in 20 other towns about expanding the scheme.
"This gives independent stores the ability to have total control of their offers. Never before have they had access to technology like this, it has always been the preserve of the big brands," he says.
One of the businesses in Reading embracing the scheme is beauty salon H:Room. Co-owner Elaine Huddy says the emergence of international voucher schemes like Groupon and Wowcher has forced them to compete and offer year-round deals.
"It has completely changed the way we have to do business, but with the MoLo scheme we have more control," she says.
"It is local and really does help promote customer loyalty."
Student boost
Another scheme - called the YourStreet Gift Card, has been launched in Bristol. This is also aimed at supporting the independent sector.
Customers load money on a Visa debit card which can be spent at more than 100 local stores.
Friends Imogen McIntosh and Anne-Louise Perez came up with the idea after trying to buy vouchers from a variety of stores for a friend's birthday. They researched the market, won backing from two major High Street banks and found a processing firm to administer the scheme.
They also have the support of the University of the West of England which is buying £10 cards for about 6,300 students. Ms McIntosh believes there is potential to take the scheme nationwide.
"At the moment £4bn is spent on gift cards in the UK each year and most of that is spent on chain stores," she says.
"If we can redirect at least some of that money towards independent stores then it is going to benefit everyone. If one trader goes bust then there are potentially hundreds of others where you can spend your money."
Your rights
The growing popularity of vouchers and gift cards has increased scrutiny of the protection they offer shoppers if a business goes bust.
Sarah Pennells, creator of Savvywoman.co.uk website, says consumers' rights are pretty much the same with a local card as they are with one of the national schemes.
"The only advantage is that you can use your vouchers in more shops and if one or two go bust, it is less of a problem," she says.
The only disadvantage, she says, is that the local cards are valid for a year whereas many of the big chains' cards tend to be valid for up to two years.
As shopping areas increasingly struggle with competition from online retailers, many more independents are now joining forces and hope these group voucher schemes could form part of their survival plan.