Rio Tinto delays Mongolia copper mine shipment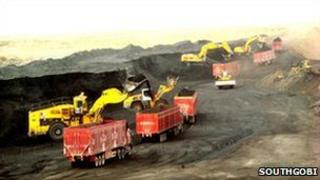 Rio Tinto has delayed its first shipment of copper from a huge Mongolian mine project, which was due to begin Friday, because of a lack of government support.
Late on Thursday the company said the government had requested shipments from the Oyu Tolgoi mine be put on hold.
Rio has developed the project with hopes of starting production at the end of June.
Oyu Tolgoi is slated to be one of the world's largest copper mines.
"Oyu Tolgoi is ready to start its first shipments of copper concentrate from its Mongolian mine and all necessary permits to do so have been received from relevant authorities," Rio Tinto spokesman Bruce Tobin said on Friday.
"However, plans to start shipping on 21 Friday June have been postponed at the request of the government of Mongolia," he added without giving a reason.
Economic boost
Many companies have rushed to invest in Mongolia, keen to develop the country's plentiful natural resources.
In February, Rio had said it would not begin exporting until agreements with the Mongolian government were reached over royalties, costs, management fees and project financing.
Rio and its partner company, Canada-listed Turquoise Hill Resources, own 66% of the mine, while the Mongolian government owns the rest.
How much the Mongolian economy will earn from the Oyu Tolgoi project has been a hot issue in the upcoming presidential election in Mongolia.
"Rio Tinto is keen to start shipping as soon as possible in order for the benefits from Oyu Tolgoi to start flowing to all parties, including the people of Mongolia", the company said.
"Shipping will commence as soon as the government indicates its support for us to do so."