Spending through the decades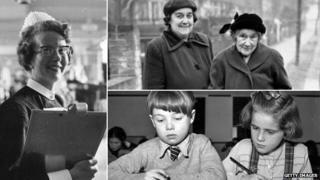 On Wednesday the chancellor will announce how much Whitehall departments will have available to spend in the financial year 2015-16.
There is no doubt that almost all departments are in store for significant budget cuts.
The government is looking to cut the total amount departments spend by 2.8% in real terms (in other words, after adjusting for the effects of inflation) between 2014-15 and 2015-16.
Of course some areas of spending - the NHS, schools and overseas aid - have been promised protection from cuts, so that means that the cuts elsewhere will have to be greater. Other departments are likely to have to shave about 8% off their budgets on average.
These large departmental spending cuts in 2015-16 follow four years of cuts, and on current plans they will not be the last.
In total, between 2010-11 and 2014-15, the government is planning to cut total departmental spending by 9.1% in real terms. Further cuts are pencilled in for 2016-17 and 2017-18.
This implies that by 2017-18 departments will have seen their budgets cut by nearly one-fifth.
Crisis and recession
This is an unprecedented period of consolidation, both in terms of the extended period of spending cuts year after year, and in terms of the size of the cuts being implemented.
These departmental spending cuts are required as part of the government's overall plan to reduce public borrowing.
Total government spending, of which the amount spent by departments is only a part, should come down to 40.5% of national income by 2017-8 if the government reaches its targets.
That is a big fall from its peak in 2009-10, when it hit 47.4% of national income. But that was unusually high as a result of the loss to national income associated with the financial crisis and recession.
So actually, after eight years of austerity, the amount the government share of national income is forecast to be back to the level it was in the mid-2000s.
However, while spending as a proportion of national income is forecast to be the same in 2017-18 as it was in 2004-05, the composition of that spending will be different.
The biggest difference between the two years is spending on debt interest payments, which is forecast to account for 9.5% of total spending in 2017-18, a big rise from the 5.1% in 2004-05. Such spending on debt interest would equate to over one third of the government's revenue from income tax.
In addition, spending on pensioner benefits - such as state pensions and winter fuel payments - and healthcare is also forecast to become relatively more important.
Health spending is expected to go up from 17.9% of all spending to 19.4% - almost one pound in every five that the government spends. That would leave the government spending more on the NHS than it raises from national insurance (to the tune of £15bn).
While spending as a share of national income is forecast to be the same in 2017-18 as in 2004-05, since the economy is forecast to grow over that period, real spending (in 2013-14 prices) in 2017-18 is planned to be £111bn more than in 2004-05.
Of that increase, £90bn - so the vast majority - is accounted for by increases in spending on health, debt interest and benefits paid specifically to pensioners.
Entitlement
But that is not a new phenomenon. The proportion of spending going on health and pensioners has been growing over the past 60 years.
Health spending accounted for 7% of the total in 1953-54, but will likely account for around 20% by 2017-18.
Spending on benefits paid specifically to pensioners accounted for just 5% of total spending in 1953-54, but is on course to account for 14% by 2017-18, as the numbers over the state pension age has increased and those reaching retirement have done so with greater entitlements to state pensions.
It will come as no surprise that the state has significantly reduced the proportion of spending that goes on defence, from the 10% averaged over 1970s and 1980s during the cold war to around 6% today.
Spending on debt interest payments has also been taking up a generally declining proportion of total spending over time.
In part this is due to the debts accrued in World War II being paid off. But since the 1980s this has been largely due to a decline in the interest rate the government has to pay on its debt.
Debt interest spending has increased rapidly over the past few years as a result of the recent increase in government borrowing, but such a pattern is common after a recession.
Under current forecasts for future borrowing and the interest rate on that debt, debt interest payments in 2017-18 are only forecast to account for around the same proportion of total public spending as in 1997-98.
The government is currently making some tough decisions about spending for 2015-16, but whatever the outcome of the latest Spending Round, we will still be continuing to move towards a state more focused on health and pensions.
As the population ages this will become ever more evident. Therefore even after the current period of consolidation is over, the government will have some big choices to make about what is a sustainable size and composition of public spending in future.