Tenants faced rising rents again in May, LSL says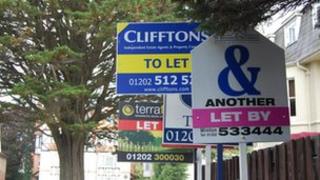 The cost of renting a home in England and Wales rose again in May as tenants faced charges that were 3.5% higher than a year earlier, a survey has suggested.
Rents rose by 0.1% between April and May, although this was a smaller increase than during recent months.
LSL Property Services said that this meant the average rent was £737 a month - the third highest level on record.
The pace of rent changes varied in different regions, the data showed.
Tenants faced rent rises of 7.2% on average in London over the past year, with costs up by 5.2% in Wales, and up 4% in the north east of England.
The south west of England saw no change compared with a year ago - the only region not to see costs increase.
Demand
The latest month-on-month rise would have been higher, LSL said, had there not been a surge in activity in the housing market.
Figures published on Thursday by the Council of Mortgage Lenders (CML) showed that UK mortgage lending leapt to its highest monthly level since October 2008 in May.
This was up 21% on the previous month and 17% higher than in May last year, assisted by government schemes to boost house buying.
Meanwhile, the latest home sales figures from HM Revenue and Customs show that there were 89,050 transactions in the UK in May, compared with 75,350 in the same month a year earlier.
"Looking further ahead, sustaining the increase in new buyers will depend on how many tenants are able to build big enough deposits to get a mortgage," said David Newnes, director of LSL, which owns lettings agents Your Move and Reeds Rains.
"With wage growth so weak compared to inflation and house price growth, it looks like deposits will become less affordable - which will keep demand for rented accommodation high."
The survey suggested that, in May, the proportion of rent in arrears had fallen, as tenants' personal budgets improved.
This and the slowing of rental increases could bring some stability to the rental market, according to Matt Hutchinson, director of flatshare website SpareRoom.co.uk.
"This slackening off of rent rises will be a welcome relief to many, and will help landlords keep hold of existing good tenants for the long-term," he said.