Young need to save for 14 years for a home, says Shelter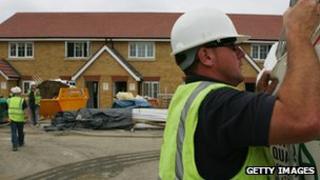 The average single person in their twenties will now have to save for over 14 years before they can buy a home, says the housing charity Shelter.
A young couple with children will need nearly 12 years to get enough money for a deposit.
The independent research shows for the first time the different savings periods needed in each of the English regions.
The research assumed that home-buyers needed a deposit of 20%.
Affordability is worst in London, where it is claimed that a single person needs 29.5 years to raise the money needed, and a couple with children needs 20 years.
The easiest area to buy a home is in the North East, where a single person needs nine years of saving, and a couple with children needs 8.8 years.
Choice
Lauren Pinney is a 29 year-old teacher from Brighton.
She and her husband Ivan currently share a flat, and they would like to start a family. But buying a home of their own is unaffordable.
"I don't think we'll ever be able to save for a house," she told the BBC.
"It is difficult to save while you are renting, so I think it'll be one or the other: a flat or a family. If we want a family, we'll have to give up the dream of owning a home," she said.
Even with a 5% deposit, available through the government's Help to Buy scheme, Lauren says a home is out of reach.
"A two bedroom flat in Brighton costs £200,000, so a 5% deposit would still mean finding £10,000, which is too much," she said.
Between herself and her husband, who works as a gardener, they have good salaries, with a joint income of £50,000.
"Despite working hard and saving what they can each month, today's young people face life-changing choices between starting a family or buying a home of their own," said Campbell Robb, Shelter's chief executive.
"Meanwhile, single people face an added pressure to either find a partner or to live with their parents well into their thirties if they're ever to have a hope of saving enough for a deposit," he said.
Rents
Meanwhile another report pointed out that renting is not a cheap alternative to home ownership.
Average rents in England and Wales could hit £800 a month by 2015, said LSL Property Services, the largest lettings agency in the UK.
That represents a 21% rise since 2010.
The LSL report said 20% of the population will be living in the private rented sector by that time.
"Fundamentally, buying a home is still becoming less affordable, not more," said Lucy Jones of LSL.
"Renting was the future before the recession - it cushioned many during - and it's still the future for millions," she said.
She went on to call for "financial mechanisms" to make more homes available for rent, in an effort to keep prices down.