Deloitte gets one-year New York ban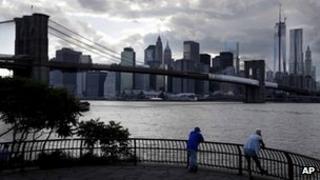 Deloitte Financial Advisory Services has agreed to a one-year suspension from doing new consulting work for financial firms in New York state.
It comes after New York's financial regulator criticised the firm for its work at Standard Chartered on anti-money laundering issues.
Deloitte will also pay the state of New York $10m (£6.4m) under the agreement.
Deloitte FAS said it looked forward to working with the regulator to "establish best practices".
Reform
Last year, UK-based Standard Chartered agreed to pay $340m to the Department of Financial Services (DFS), as well as $227m to the Department of Treasury and a fine of $100m imposed by the Federal Reserve, to settle charges it violated US sanctions on Iran, Burma, Libya and Sudan.
After investigating Deloitte FAS's work at Standard Chartered, New York's DFS found that the firm did not demonstrate the necessary autonomy required of consultants performing regulatory work.
It also said that Deloitte had violated New York banking law by disclosing confidential information of other clients to Standard Chartered.
In addition to the voluntary suspension and agreeing to pay the $10m fine, Deloitte will implement a set of reforms designed to help address conflicts of interest in the consulting industry, the DFS said.
"The State's agreement with Deloitte will serve as a new model for reforming the financial services consulting industry in New York as well as across the country," New York Governor Andrew Cuomo said in a statement.
"When tasked by government agencies to undertake regulatory work at financial institutions, it is critical for these consultants to remain autonomous and avoid conflicts of interest. Our homeowners, investors and economy are protected when independent consultants are truly 'independent'."
In a statement, Deloitte said: "Deloitte FAS has voluntarily entered into an agreement with the New York Department of Financial Services that resolves DFS' inquiry into Deloitte FAS' role in the 2004-2005 Standard Chartered Bank (SCB) matter.
"Deloitte FAS looks forward to working constructively with DFS to establish best practices and procedures that are ultimately intended to become the industry standard for all independent consulting engagements under DFS' supervision."
The statement added that the agreement related only to Deloitte FAS, and did not affect any other Deloitte entity.