EU car sales hit 20-year low for May as recession hurts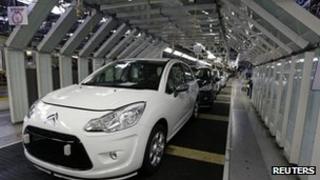 New car sales across Europe fell to their lowest level in two decades for May as the deepening recession hurt demand.
Registrations dropped 5.9% to 1.04m in May, compared to a year ago, according to the industry body, the ACEA.
This is the lowest level for May since 1993 when new registrations plunged below one million.
The UK was the only country to report a rise in sales, with sales up 11%.
Vicky Redwood, chief UK economist at Capital Economics, said the UK's performance was likely to have been boosted by the government's Funding for Lending Scheme (FLS).
"There are quite favourable finance deals available to buy cars. And generally UK consumers have been a bit more willing to spend," she added.
FLS was launched last August, in an attempt to boost lending and get the economy expanding.
Under the scheme, banks and building societies are allowed to borrow money cheaply from the Bank of England, providing they loan that money to individuals or businesses.
Downward trend
Overall, the results reverse April's surprise rise when the timing of Easter boosted sales.
Two additional work days for the month compared to a year earlier meant sales unexpectedly increased by 1.7%.
Disregarding April's blip, car sales have now fallen every month for the past 20 months.
And sales are now down 5.8% for the first five months of the year.
Germany, traditionally one of the strongest countries in the EU, saw sales drop 9.9% compared to a year ago. However, its Volkswagen Group saw sales drop at a slightly lower rate of 2.8%.
In Italy sales fell 8% and France saw a 10.4% drop.
Big name brands including PSA Peugeot-Citroen, Renault, Ford, General Motors and Fiat all suffered double-digit declines in May.
Despite the apparently weak results, IHS Automotive analyst Carlos da Silva said he believed that the situation was stabilising.
"After five months, the situation remains tense,'' Mr da Silva said. `"Yet, for the second month in a row the rate of decline is slowing down. This means that sales are stabilising trend-wise."
Car sales have been hit by the deepening recession in the eurozone as consumers put off buying expensive items like cars.
The European Union's economy shrank 0.2% in the first three months of this year, marking the sixth consecutive decline. And unemployment across the EU is now at 12.2%.