House price 'bubble' warning from Building Societies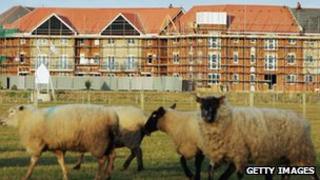 Building Societies are warning of the danger of a house price bubble, unless the government takes action.
The Building Societies Association (BSA) said the government needs to have an exit strategy from its Help to Buy scheme.
Without that it said there was a danger of "a seriously distorted housing market, and the very real risk of a future price bubble".
The scheme, which began in April, has already proved popular with buyers.
In its first phase it allows buyers to take out an equity loan with the government, which enables them to put down a deposit of just 5%.
It is due to end in 2017.
The BSA said taxpayer support should not become a permanent feature of the housing market.
The outgoing governor of the Bank of England, Sir Mervyn King, has already warned that Help to Buy must not be an indefinite scheme.
Prices
In separate figures, the Office for National Statistics (ONS) said annual house price inflation across the UK is now at 2.6%.
That represents a slight slowing from last month, when annual inflation was 2.7%.
But there is still huge variation across the country.
Prices in London rose by 6% in the 12 months to April 2013.
In Scotland they fell by 1.2%, and in Northern Ireland they fell by 0.8%.
In its property tracker report, the BSA said consumers are feeling at their most confident for three years.
It said most people expect house prices to rise in the next 12 months, with just 9% predicting a fall.