Osborne disputes claims over RBS boss Stephen Hester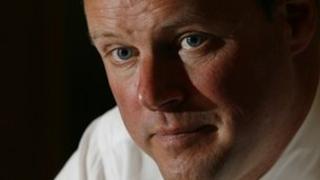 Chancellor George Osborne has fought back against claims that he forced Stephen Hester to stand down as head of the Royal Bank of Scotland (RBS).
He said Mr Hester had decided to go in discussions with the board of RBS.
"Of course my consent and approval was sought," he told Radio 4's Today programme.
Mr Hester said last week that he would step down in December after five years in the role.
At the time, RBS chairman Sir Philip Hampton said the transition was necessary if RBS was to return to private ownership by the end of 2014, as the Treasury hopes.
RBS said an "orderly succession" would allow the new chief executive officer to oversee the re-privatisation of the bank, and lead it "in the years that follow".
It said Mr Hester "was unable to make that open-ended commitment".
Mr Osborne confirmed he would set out the next steps for how to return RBS and Lloyds Banking Group to the private sector on Wednesday in his annual Mansion House speech.
"The very important proviso is that we we get our money back," Mr Osborne added.
Mr Osborne said that the key issues were that taxpayers got value for money, and that the banks would be strong supporters of the British economy.
The Treasury currently owns 81% of RBS and 39% of Lloyds after both banks were bailed out during the financial crisis.