Indonesia set to cut fuel subsidy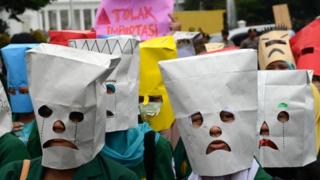 Indonesia's parliament has paved the way for a rise in petrol and diesel prices after months of debate and political haggling.
The average 33% hike will reduce the government's ballooning fuel subsidy which has been a major drain on resources.
The move will likely stoke inflation and has sparked protests in recent days.
The revised budget, passed late Monday, has a cash handout for poor families.
A date has not yet been set for when the fuel price rise will take effect. According to the government proposal the price of petrol will rise 44% from 4,500 Indonesian rupiyah to an expected 6,500 rupiyah.
On Tuesday, Finance Minister Chatib Basri said the government needed to follow the administrative process of handing out 150,000 rupiah ($15; £10) per month to the poor, for a period of four months, to help offset the rise before implementing it.
Violent demonstrations
It is a politically sensitive move, and one that many analysts did not think this administration had the stomach to push through. Indonesian President Susilo Bambang Yudhoyono has been trying to pass through reforms on fuel subsidies since early last year, but with little luck.
A proposed increase of 33% in fuel prices last year led to violent demonstrations around the country. Opposition parties in parliament vehemently opposed a hike, despite economists saying a rise in fuel prices was critical for this country's future.
This time around there were protests again - but not as violent as demonstrations have been in the past.
Opposition parties and even one coalition partner opposed the fuel price rise, but the government managed to pull through in the end with a cash handout for 15 million poor families of $910m (£579m).
Mainly because there is a lot at stake.
Indonesia, once a darling of foreign investors in the region, has been sorely criticised for its lack of action on fuel subsidies. Its reputation as a star amongst the emerging markets has suffered - although foreign direct investment figures have remained strong.
Investors have begun to look elsewhere in the region - like the Philippines and Thailand - for returns. The bloated fuel subsidy bill has put pressure on Indonesia's current account deficit, the stock market and the rupiah - the Indonesian currency.
Shares and the Indonesian rupiah have seen sharp sell-offs as foreign investors have looked to put their money into what they deem to be safer options.
Concerned about the lack of momentum on reforms, the international ratings agency Standard and Poor's revised down its outlook for the country from positive to stable - while at the same time raising the rating for Indonesia's neighbour, the Philippines.
That was particularly embarrassing for the Indonesian government, given that it has always been seen as the strongest economy in South East Asia. The sizeable Indonesian middle class has tempted many foreign companies to set up shop here in recent years.
Earlier this year, the Boston Consulting Group said that Indonesia's middle class could double by 2020 to 141 million people - more than half the size of the current population.
Bitter pill
Nevertheless, although the decision to raise fuel prices and cut the subsidy bill will be applauded by the international investment community, Indonesians aren't thrilled by the move.
Any increase in prices will lead to a short-term jump in inflation to between 7% and 8% from current levels of approximately 5% - a jump that economists say is a bitter pill but one the country has to swallow.
Already prices of goods have started increasing in local markets in the Indonesian capital Jakarta.
"People have been expecting the price of fuel to go up," said Ade, a street vendor in Jakarta. He sells fried rice to office-goers in the business district to make a living. "So already the price of all the basic food like rice and vegetables has gone up too. Also it is the beginning of the fasting month soon - and prices traditionally go up then too."
There is nothing more politically sensitive than rising prices in Indonesia. Politicians here remember all too well how former president and strongman Suharto stepped down from three decades of ruling the country with an iron fist, after soaring prices prompted huge protests on the streets of Jakarta.
That led to one of the most painful periods in Indonesia's economic history.