Airbus beats Boeing's orders on first day of air show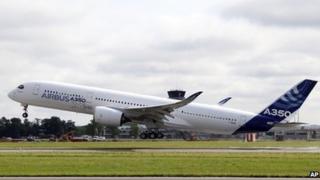 Airbus has secured more orders than rival Boeing on the opening day of the world's biggest air show in Paris.
Airbus announced orders worth $18.3bn (£11.62bn) to Boeing's $6.1bn.
The largest of these was a provisional order of 20 A380 double-decker superjumbos by aircraft financing group Doric.
Airbus is looking for buyers for its A350 aircraft, which had its maiden flight in France on 14 June. The new plane can carry up to 440 passengers.
The event, taking place in Le Bourget in Paris, will see around 2,200 companies from 144 countries exhibiting. More than 350,000 visitors are expected to attend.
Airbus said that the first flight of the A350 went as planned. The company says that from a pilot's point of view, the new plane operates in the same way as existing Airbus planes, which it says is a selling point for airlines because they do no need to retrain their crew to fly them.
Meanwhile, Boeing is seeking to move on from the technical difficulties it has faced with its Dreamliner aircraft, after battery issues caused a worldwide grounding of the craft. Aircraft leasing firm GECAS has ordered ten 787 Dreamliners at the show, which is worth $2.9bn to Boeing.
Boeing's Ray Conner said: "I think we have the better products and at the end of the day, hopefully the better product wins."