OECD urges G8 to clamp down on tax evasion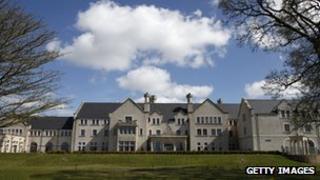 Governments worldwide should clamp down on illegal tax evasion by automatically sharing tax data, an international body has told the G8 summit.
The call from the Organisation for Economic Co-operation and Development (OECD) came in a report commissioned for this week's summit in Lough Erne.
The report backs new tax laws.
It came as UK chancellor George Osborne said the G8 was working on a simple declaration that would include tax evasion.
"This will be a real step change in the seriousness with which the international community takes these issues," Mr Osborne told the BBC's Today programme.
"We have made more progress in the last 24 hours, than in the past 24 years."
Mr Osborne said the declaration would change the international rules on taxation, so individuals would no longer be able to hide their money offshore and companies would not be able to shift their profit away from where it is made.
According to the OECD report, "Vast amounts of money" are kept offshore and therefore untaxed.
"As the world becomes increasingly globalised it is becoming easier for all taxpayers to make, hold and manage investments through foreign financial institutions, something that not long ago was accessible only to a select few."
The OECD also urged governments to look at more than just bank accounts so that people do not simply shift their funds into other assets.
It said that the recommended steps needed to introduce an international system of automated information sharing could be finalised over the course of this year and next.
It would build on an existing requests-based sharing system set up in 2009.
The OECD claimed a move towards automated information exchange had "unprecedented political support".
However, governments still have yet to agree exactly which information they will provide each other with automatic access to.
The UK, France, Germany, Italy, Spain and the US have already developed an embryonic system of information exchange, the report noted.
Campaigners warned that any agreement on sharing tax information must also include developing countries.
Adrian Lovett, Europe executive director at development campaign group One, said these countries miss out on billons in tax revenues as a result of firms and individuals that keep their wealth abroad.
"By taking these steps, the G8 will not only put its own house in order, but do so in ways that help the fight against extreme poverty," he said.