Former Wickes boss lays out vision for High Street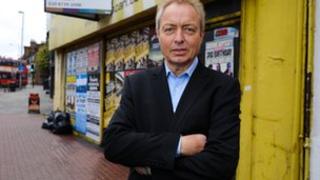 A retail veteran is so frustrated at the lack of progress on tackling High Street decline, he has decided to come up with his own solutions for the UK's struggling town centres.
The former chief executive of Wickes and Iceland, Bill Grimsey, is to lead what he describes as an "alternative review" of the High Street.
He has put together a small team of experts to come up with new ideas after becoming frustrated with the government's current policies to deal with the challenges.
Mr Grimsey claims that the government's flagship scheme, known as Portas Pilots, was giving false hope and "trying to keep a failed model on a life support machine".
Last year, 27 towns in England were each given around £100,000 to test out new ideas.
They were inspired by the the retail expert, Mary Portas, in her official review of the High Street.
Tinkering at the margins
Mr Grimsey believes that whilst the Portas review put the future of the High Street onto the national agenda, the government, he claims, has been tinkering at the margins with initiatives that are failing to deliver change.
"We've seen big structural changes and a huge shift in consumer behaviour and this needs to be matched by bold, transformational policy to support a completely different landscape," he said.
"With the growth of online and mobile sales, as well as the big out of town mall culture, it is futile to start with the premise that retail will remain the dominant force on high streets, because it won't," he added.
Bill Grimsey said High Streets and town centres need a "complete solution", encompassing health, education, housing and leisure among other things.
Some of the key issues his review will look at include business rates, planning and the role of local authorities, as well as access to finance.
The core members of his team include Matthew Hopkinson, the director of the Local Data Company, Jackie Sadek, chief executive of UK Regeneration, Chris Shellard, an expert in social and economic policy and Sid Vasilli, chief executive of Invapay.
Mr Grimsey is hoping to secure submissions on his website from as many stakeholders as possible.
He plans to submit his report to the three main political parties by the autumn.
No 'false hope'
Mary Portas responded by saying that her report did provide a complete solution.
She also said that while she agrees that the government has been slow to respond, she intends to continue her fight for policy changes in areas such as planning, parking and business rates.
"Whilst I welcome Bill Grimsey's input to the fight for the regeneration of the High Street, all his points are covered in my review and it isn't very helpful to knock the efforts of communities today who are not living under 'false hope' but are actually making great changes and fighting for their High Street," she said.
"Try telling the people of Helston their High Street is dead. They've reduced their vacancy rate from 13% to 4.5% in one year."
Wider debate
The "Grimsey Review" already has the backing of Andy Clarke, the boss of Asda.
"There does need to be a wider debate about the future of the High Street and Bill Grimsey is well positioned to lead this," he said.
A spokesman from the Department for Communities and Local Government said: "We welcome any contribution to the debate and new ideas that anyone wants to suggest. It is clear that our high streets will need to adapt to prosper.
"That's why the government has worked hard over the past year to help High Streets thrive - simplifying planning restrictions to get empty and redundant buildings in town centres back into use, cutting business rates for small businesses and scrapping Whitehall guidance that pushed for higher parking charges.
"But this is just the start and why we are bringing together experts from across the industry to sit on our Future High Streets Forum to help tackle the biggest challenges our town centres face."