Co-op Bank's stock market future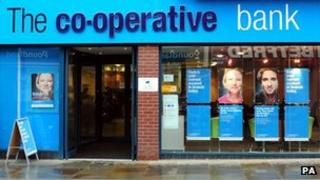 The Co-operative Bank is to be floated on the stock exchange as part of its £1.5bn rescue (as I disclosed last night).
This will be seen as ending its mutual status - although, in fact, that isn't quite right, because although Co-op Bank is owned by a mutual, Co-op Group, the bank itself is a PLC.
That said, many will argue that the culture and practices of the bank are bound to change once its shares are owned by commercial investors - even though the Co-op Group will retain a controlling majority stake in the bank.
The many supporters of mutuals will be disappointed that saving Co-op Bank from collapse has forced it to turn its back, to an extent, on the mutual movement.
Co-op Group says the bank will henceforth concentrate on providing banking services to individuals and small businesses, and will pull out of banking for "larger corporate and commercial customers with complex product and servicing requirements".
In general, the bank will be more focussed on making profits because of the "need to generate an appropriate return on equity".
Co-op has been forced to radically reconstruct itself largely because of the huge losses it has been incurring on property and other commercial loans, many of which it inherited through the takeover of the Britannia Building Society in 2009.
In conjunction with the regulator, the Prudential Regulation Authority, it has calculated that it needs to raise £1.5bn of new equity, to be able to comfortably absorb these losses and any future shocks.
In order to do this, it wants its holders of £1.3bn of so-called subordinated debt, or investors in supposedly riskier loans to the group, to convert these loans into shares and new debt or bonds.
Although the bank has to negotiate the terms of this debt-for-shares swap, it expects to raise about £1bn of new equity in this way.
The bank is expected to be floated on the stock market by October. It won't be big enough to be part of the FTSE 100 index, and it is likely to have a market value of less than £1bn, because investors tend to value banks at a significant discount to the book value of their equity.
The bank is raising a further £500m, in 2014, from the sale of its 140-year-old insurance businesses and by disposing of so-called non-core banking assets.
Regulator under focus
Although they are being offered shares in Co-op Bank and new bonds, holders of Co-op Bank's subordinated debt will incur very big losses.
These are mainly investment institutions, such as pension funds and life insurers.
However, there are up to 5,000 individuals who have small investments in the subordinated debt. Co-op says that typically their holdings are worth less than £1000 each, and collectively their holdings are worth about £65m.
Co-op Bank will pay for these retail investors to receive financial advice on how to respond to the debt-for-equity swap - and the bank says it is also exploring whether to offer them different terms to those that will be negotiated with investment institutions.
As I said yesterday, the City regulator will hail the rescue as an important milestone, because no money is being provided by taxpayers, and most of it is coming from the bank's creditors.
However, there will be criticism that the regulator - which till recently was the Financial Services Authority and is now the Prudential Regulation Authority - did not recognise how weak the bank had become until a few months ago.
The performance of the regulator in overseeing the Co-op is being investigated by MPs on the Treasury Select Committee, which wants to know why it allowed the Co-op to spend years negotiating to treble in size by buying more than 600 branches from Lloyds Banking Group at a time when its own operations needed mending.
Co-op pulled out of the Lloyds takeover in late April.
Just over a month ago, Co-op group's debt was downgraded to junk by Moody's. The bank expects a further ratings downgrade today, but it hopes that will be temporary, and that the rating will improve as and when the debt-for-equity swap goes through.