P&O passengers criticise cruise price promise offer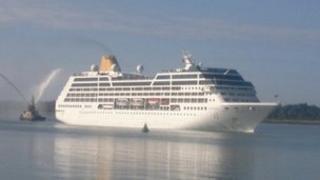 A price promise offered by P&O cruises for those who book their cabins a long way in advance has been criticised by some passengers.
The guarantee says that if its Vantage fare is reduced nearer the date of departure, the passenger will be offered a benefit, such as an upgrade.
Some passengers say they have seen the same cabins selling for less than half the price they paid.
P&O says these Getaway fares are excluded and are not comparable.
Price guarantees
P&O has been heavily promoting its price promise, which it introduced last July.
But Radio 4's Money Box has been hearing complaints from listeners who are not happy with it.
Ray Blackmore and his wife Wendy, from Somerset, who regularly take P&O cruises, booked last October for a cruise in May to the Norwegian fjords at a fare of £949 per person.
They paid a deposit at the time and paid the remainder in February.
But as the date of the cruise approached, Mr Blackmore became uncomfortable about whether he had paid over the odds by booking six months ahead, as he told Radio 4's Money Box programme: "We suddenly saw the same cruise, the same cabin, being sold at reduced rates. It eventually went down until it was £500 per person cheaper. The price promise doesn't appear to happen."
Mr Blackmore wrote to P&O to complain and to ask for the company to refund what he had paid over and above the people in the adjoining cabin.
Cheaper deals
But he says the company refused. And Neil and Barbara Plested have a similar complaint.
They paid more than £1,800 for a balcony cabin for a P&O Baltic cruise from Southampton and also noted the company's price promise.
But they then noticed that the same cabin could be booked for under £800 as the sailing date grew closer.
Simon Calder, the travel editor of the Independent, says the price promise has become a big issue for some passengers: "If you talk to people on ships, if you look at some of the cruise forums online, you will see it is absolutely infuriating lots and lots of people."
He says the business model followed by most cruise lines means some fares will always be discounted near departure: "The cruise companies are trying to fill up every single berth for every single departure and they're tying themselves in marketing knots. They're not doing themselves any favours or their passengers either."
P&O's price promise page describes the promise in these terms: "We promise that, should we reduce the Vantage Fare for a holiday you have already booked (for your cruise and cabin type with the same terms and conditions), we will pass on the value of the reduction to you automatically in the form of a complimentary benefit, such as onboard spending money or a cabin upgrade.
"If, however, fares for your holiday should rise after you have made your booking, and they may, you can rest assured that you have received excellent value by booking early - so both ways you win."
Fare differences
The section of P&O's website which sets out what Vantage Fare customers can expect from their package currently explains near the bottom of the page that the price promise does not apply to its Getaway fares - which are the cheaper fares it offers nearer the sailing date. These are the cheaper fares which Ray and Wendy and Neil and Barbara noticed.
Money Box put the two couples' cases to P&O. It said that tens of thousands of customers had benefited from the price promise since its launch. It said it publicised the fact that it would be likely to introduce Getaway Fares on some cruises when it introduced Vantage Fares and always made it clear in its brochures and online that this was a possibility.
The company added that there are significant differences between the two fares apart from the price: "We all appreciate how frustrating it is to make a purchase and then see a lower price, especially on a premium product such as a holiday.
"With Vantage fares, passengers pay a 15 per cent deposit, are able to choose the cabin type, location and number, and can choose from an additional benefit such as onboard spending money or complimentary car parking.
"When bookings are made on a Getaway fare, passengers are not able to select the cabin type or location and there are no additional benefits."
"In our future advertising campaigns, we plan to promote Getaway Fares alongside Vantage Fares. This allows the customer to make an informed choice about the promotion and the associated benefits of each fare."
Deal exclusions
P&O is not the only cruise line to face criticism over the way it promotes some of its fares.
Fred Olsen Cruises have had two complaints upheld against it by the Advertising Standards Authority in four months over its marketing.
In both cases the cruise company had said that if customers booked immediately, they would get the best deal, "guaranteed."
But in one case, inside cabins were excluded from the promise, and in the other Fred Olsen introduced a two-for-one offer.
Fred Olsen said it regretted the ASA ruling and it has withdrawn the promotions.
It said the limitations and restrictions relating to its price pledge were stated in the terms and conditions.
Money Box is broadcast on Saturdays at 12:00 GMT on BBC Radio 4 and repeated on Sundays at 21:00 GMT.
You can listen again via the BBC iPlayer or by downloading Money Box podcast.