Deputy governor Paul Tucker to leave Bank of England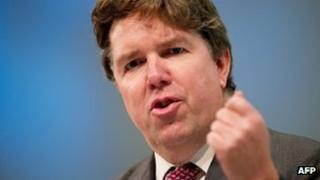 The Deputy Governor of the Bank of England is stepping down from his post.
Paul Tucker was one of the candidates to succeed Sir Mervyn King as governor, and has been at the Bank of England for 33 years.
Sir Mervyn leaves at the end of the month and will be replaced by Canadian Mark Carney.
The exact date of Mr Tucker's departure is yet to be confirmed, but it is thought he will stay on to support Mr Carney until the autumn.
"It has been an extraordinary honour to serve at the Bank of England over the past thirty years," said Mr Tucker.
"I am very proud that, through the Bank and the wider central banking community, I have been able to make a contribution to monetary and financial stability."
Tributes
Sir Mervyn King said: "Paul's contribution to the Bank, to monetary policy, and more generally to public policy, both in the UK and in the world as a whole, has been enormous."
Praise for Mr Tucker also came from the Conservative MP, Andrew Tyrie, the chairman of the Treasury Select Committee, who said his legacy could be seen in a range of fields.
"Paul Tucker has done an outstanding job, not least in helping shape the international framework for bank resolution, a vital part of the regulatory response to the crisis.
"He has also played a crucial role in making sure that the new regulatory system remedies a central weakness of the old, and focuses on financial stability," Mr Tyrie said.
Mark Carney said he wished Mr Tucker every success and maintaining a close dialogue with him.
Mr Tucker will spend a period of time in academia in the United States once he has left the Bank.
The Treasury said it had not yet started to look for a replacement, but would start the process in due course.
Governor and deputy governor appointments are made on the recommendation of the prime minister and the Chancellor, George Osborne.
Mr Carney is also expected to be involved in the process.