Mulberry profits hit by weak spending in Europe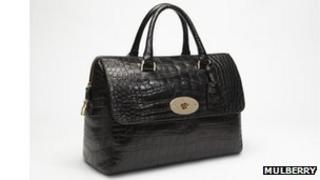 Luxury retailer Mulberry has reported pre-tax profits of £26m for the year to March 2013, down 28% on last year.
Mulberry, which makes most of its sales in the UK and Europe, was hit by a slowdown in consumer spending in those regions and weaker demand from Chinese tourists.
The company also increased prices by 12% in November.
Earlier this week the creative director Emma Hill resigned, leading to an 8% drop in the share price.
The company said it needed to boost awareness of its products in both the US and Asia.
"Greater visibility in Asia will allow us to benefit from tourist traffic in Europe and the US at the same time as growing our business locally," said Bruno Guillon.
The company, famous for its leather goods, has struggled recently and has issued two profit warnings in the past year.