CBI warns Osborne 'infrastructure key to recovery'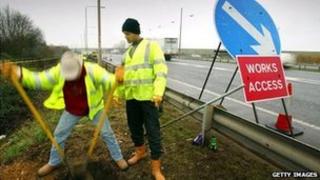 The CBI has warned the chancellor he will put economic recovery at risk unless he makes infrastructure spending top priority of his spending review.
The business lobby group wants the government to press ahead with key projects, including building more roads and houses.
It says infrastructure projects could be funded through public service reform.
This could include reducing automatic public pay rises.
Some of the projects it highlights are the expansion of the A14 connecting Felixstowe Port, the M4 relief road and improving surface access to airports.
John Cridland, director general of the CBI said: "If the government doesn't act now, even less infrastructure could be built in the years ahead, as cuts from the last spending round continue to feed through."
"The Government has to walk a tightrope of making substantial savings, without harming fragile growth."
The government's spending review, taking place on 26 June.
It will be the first since October 2010 and will set the level of government spending from April 2015 onwards.