Collaboration: Apps that work alone to come together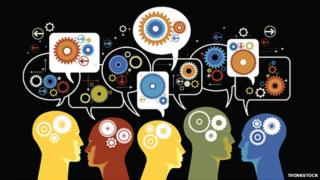 Working together as a team at different times, in different locations, on different bits of digital kit - a trend that has gathered momentum particularly in the last couple of years.
This is thanks in no small part to more capable smart devices and faster internet access in a greater number of places.
But while the rest of the software industry strives to make products from the ground up that cater specifically to groups, Evernote's chief executive Phil Liben is sticking to his guns - making great note organisation software for individuals and letting nature take its course.
"In general I think we have a pretty different take with Evernote Business on what collaboration should be like," he says.
"We think most business software is fundamentally about collaboration… and we are not. We start from a totally different point. Evernote is for yourself. The collaboration should come automatically as a result of that."
Stick out from the crowd
That philosophy seems to be shared by a handful of the top players in the "solo" app space.
The better the individual experience and the more people who use it, the greater chance there is that it will become a collaborative tool by default.
Dropbox is another example of a company that created a rock steady personal cloud storage product (harder to do than it appears!), redefined simplicity along the way, and slapped on a logo that came to represent a gold standard.
These services have one thing in common. Millions of people use them at home, on the road and of course bring them into work.
Ilya Fushman, responsible for corporate and business development at Dropbox, came to the company two years ago when the service started outgrowing its consumer-biased origins.
"We were trying to solve the problem of a proliferation of devices - having an iPad, having an iPhone and having a PC at work and needing to access data from all of those endpoints," he says.
"We are now used in about two million businesses and 95% of Fortune 500 companies."
Whenever people start using productivity apps, they are usually using them for themselves, not to satisfy a company edict. And that's the key according to Mr Liben.
"The more you start thinking about how to explicitly exchange information the less actual information ends up getting exchanged.
"You end up going down these endless rat holes of setting up groups, arguing about procedure…. it's like a water cooler situation with undirected conversations.
"Whereas if you just focus on whatever you need to do to accomplish your job and you really try to collaborate almost as little as possible, I think paradoxically you get really high quality collaboration."
Computer says no
One early challenge for these apps and others is that once they appeared unannounced in the workplace, information technology types started to worry about their carefully crafted company infrastructure.
Initially corporations tried to keep hardware like the iPhone and software like Dropbox away from the office cubicle. That didn't work.
Dropbox has taken advantage of this and reached out to IT departments, trying to help them integrate Dropbox into official workflows, with a new product called Dropbox for Business (previously Dropbox for Teams).
"Our users brought Dropbox to work," says Ilya Fushman.
"But to help them be productive at work we also needed to satisfy the requirements of IT. And these really have to do with being easily able to provision accounts to everybody in the company, having control over who has access to what data, being able to manage accounts when employees leave.
"These set of features are not there in the consumer product and so we had to add them to the business product."
Dropbox admits that its future roadmap for IT development is aggressive.
That's already reflected by new features that include "Single Sign-on" which gives the host company control over sign in authentication, and an admin console and sharing controls.
Whilst IT departments may not welcome "outside" apps with open arms, corporate executives realise that unlike other work-related software, there is almost no training needed, because people have used the software in their personal lives.
And that saves money - lots of it.
Hacked off
Collaboration only happens of course if all parties trust the platform they work on.
Both Dropbox and Evernote are prime targets for hackers because they house so much personal and work-related information.
So far their subscriber numbers have not been hit by the inevitable bad press that follows a security breach or password scare, like the one that happened to Evernote recently. Phil Liben says his company anticipates such situations.
"It was very expensive because of the way we handled it. We immediately did the most we could do," he says.
"A full password reset for 50 million users is a very expensive thing to do - just the support costs were huge for us. But we had to over-react in this kind of situation and in the near future we're adding two factor authentication. The response from businesses has been very positive."
One obvious area ripe for collaboration is design, graphics and photography.
Adobe has chosen to stop selling a lot of its marquee software such as Photoshop in retail boxes, opting instead for an online subscription service called Creative Cloud.
There have been outcries from individuals who may have to pay more over time to gain access than they did before.
But the appeal of a cloud service that features up-to-date software that can be utilised by groups, including clients, is likely to be irresistible to the graphics industry.
Not that Adobe had a choice really, as more and more designers started using the likes of Dropbox to house their projects for collaboration purposes.
Adobe's Heidi Voltmer, says there is no question that their Creative Cloud solution has mass appeal.
"I would say that almost all our users are doing some kind of collaboration. Even individual designers are usually working for a customer or one other person. In the new version of Photoshop CC you'll be able to share directly out to our Behance.net website."
Traditionally a lot of graphics work gets passed around via email. Evernote has already begun working on a way to cut out email exchanges altogether.
The Evernote partner product Skitch makes annotating art, PDFs and other documents very easy, and takes away the need for any email interaction.
Collaborators can share one Evernote Skitch note and add arrows, comments highlight and approval stamps until the project is finished.