Branson launches group to tackle short-termism in business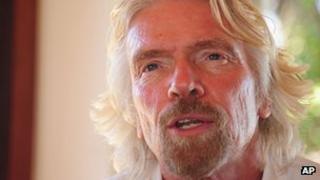 Entrepreneur Sir Richard Branson and Kering director Jochen Zeitz have launched a non-profit group to encourage global businesses to look beyond short-term profit.
The B Team will champion "a new way of doing business that prioritises people and planet alongside profit".
Sir Richard told the BBC it was time for business to be a "force for good".
The team consists of 14 global business leaders, including Arianna Huffington, Ratan Tata and Prof Mohammad Yunus.
'Entrepreneurial skills'
"Business has previously been concerned with the bottom line and has not got involved in society or with the wider issues of the world," Sir Richard, founder of the Virgin Group, said.
"All businesses should become a force for good, and not just focus on short-term profit.
"The B Team is a powerful group of people and we will work together with politicians, the social sector and other organisations. We bring a wealth of entrepreneurial skills and are able to analyse problems differently."
Sir Richard said the group would be looking at specific issues, such as quarterly reporting and subsidies for fossil fuels, and big global problems like unemployment and inequality.
Mr Zeitz, formerly chief executive of Puma, said that while business is integral to society, it had "also created most of the negative environmental challenges of this century.
"The B Team will help to catalyse a shift away from the existing short-term, unsustainable mindset, towards the long-term interest of people, the planet and the wider economy".
Collateral damage
As well as turning Puma into one of the biggest sportswear firms in the world, Mr Zeitz has been instrumental in the spread of environmental profit and loss (EPnL) accounting, where companies put a cost on their impact on the environment.
Mr Zeitz told the BBC that EPnL "could be part of the solution to how we can move away from a purely financial focus [in business]."
Puma has already calculated its impact, including that of its suppliers, while the company's owner, luxury group Kering, has said all its brands will soon follow suit.
A number of other companies are looking at putting a value on their environmental impact with a view to incorporating these costs into their annual accounts. These are often referred to as externalities, or the collateral damage of doing business.
Driving this move are not just lofty ideals, proponents argue, but sound business sense.
The services and resources nature provides, such as clean water and genetic resources for life-saving drugs, are not infinite, and should no longer be considered as free, they say.
And as these resources become more scarce, businesses will have to pay to protect them, for example by regulatory instruments such as pollution taxes, or in some cases replace them.
Those companies that are taking action to reduce their environmental impact now, and therefore their associated costs, believe they will benefit in the long term.