US oil production in largest ever single-year increase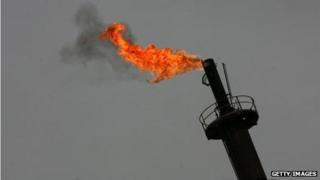 A report has revealed that 2012 saw the largest single-year increase in US oil production ever recorded.
US production grew due to an increase in techniques such as fracking, a method for extracting shale oil and gas, the report by oil giant BP said.
Overall, global energy consumption grew by 1.8% in 2012, a smaller increase than in 2011. China and India accounted for almost 90% of that growth.
China also now consumes the majority of the world's coal for the first time.
2012 also saw the largest annual decline in world nuclear output. Japan, which has seen nuclear production almost completely end after 2011's Fukushima disaster, saw an increase in imports of liquefied natural gas (LNG).
In Europe, which had higher gas prices than the US, power generators tended to favour burning coal over gas.
The report also highlights how emerging economies have increased their share of world energy usage. They now account for 56% of global consumption, up from 42% in 1992.
"For those of us in the energy industry, the challenges are about how we respond to the big shifts we are seeing - a shift in demand towards emerging economies and an shift in supply towards a greater diversity of energy sources," said Bob Dudley, BP chief executive.
"The data shows there is ample energy available. Our challenge as an industry is to make the best choices about where to invest," added Mr Dudley.