Sainsbury's reports rise in sales as market share rises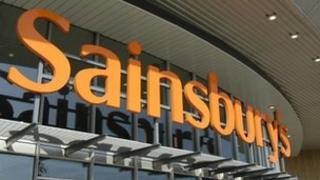 Sainsbury's has reported a rise in UK sales over the last three months.
UK sales, excluding fuel and ignoring changes in store space, rose by 0.7% in the 12 weeks to 8 June from a year earlier. Its market share is up 0.2% to 16.8% in the same period.
The firm said sales at its convenience stores have risen by a fifth.
Chief executive Justin King called the figures: "A solid performance in what continues to be a tough consumer environment."
"We have extended our track record to 34 quarters of like-for-like growth. We are the only major supermarket growing market share," added Mr King.
The supermarket says it plans to open two new convenience stores each week during 2013.
Sainsbury's says non-food sales are growing at twice the rate of food, with sales of kitchen appliances in particular, increasing by 34% since last year.
Unlike rivals Tesco and Asda, Sainsbury's has not been implicated in the horsemeat scandal, with none of its products testing positive for horse DNA.
The company says that its luxury Taste the Difference brand now accounts for £1bn of its sales.