Denver's hot housing market burns first-time buyers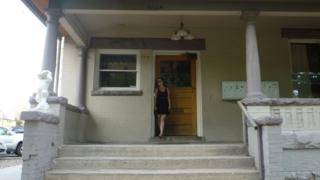 When Kait McNamee and Ryan Turch decided they wanted to buy their first home earlier this year, they thought the experience would be relatively straightforward.
But nearly five months on, it has been anything but. Various parts of the process have been "devastating", "depressing" and "soul crushing", says Kait.
The competitive housing market has left buyers frustrated, even resorting to writing letters to sellers or sending them videos featuring their children in order to plead their case.
Most estate agents, or real estate brokers, in Denver actively encourage buyers to do this, to make their offer stand out and pull at sellers' heartstrings.
Much has been made of the recent signs of recovery in the US housing market, with prices rising and housing-starts at a five-year high.
And Denver is no different. The latest figures show house prices are 9.9% higher than a year earlier in Colorado's capital.
Indeed, the city's Office of Economic Development recently declared Denver's housing market "the strongest in the nation", in terms of price appreciation and value.
But it is precisely this strong, or "hot", market that is making getting that first step on the housing ladder so hard for Kait, 25, and Ryan, 29.
Outbid
"We chose not to get married [in order] to buy a house," says Kait.
The couple want to move out of their one-bedroom rented apartment in the cosmopolitan Capitol Hill neighbourhood and are looking for a house worth up to $240,000 (£150,000).
They need a bigger place, with a yard for their two dogs and two bedrooms so that Kait, who works as an editor for an online start-up company and often works from home, can use the second one as an office.
They thought the hard part was over when, after a month, their pre-approval paperwork for a home loan was finally sorted. Little did they realise that was just the beginning.
They have been outbid five times, even when they have offered above the asking price.
"We made another two offers this weekend, but they haven't got back to us yet so we assume we didn't get them," Kait sighs.
Months spent checking property websites three times a day in search of something they can afford, dashing to try to get a viewing and then being outbid, has left IT worker Ryan on the verge of giving up at times.
But he says: "Even if we quit today and told our realtor we were stopping looking, we'd still be looking online anyway."
Low inventory
Low levels of supply, particularly at the bottom end, mean that anything coming on to the market gets snapped up almost instantaneously and has led to bidding wars.
The number of homes available for sale at the end of May stood at 8,214, a drop of 22% on the same month last year.
So where are all the sellers?
Gary Bauer, an independent real estate analyst, believes it is a combination of factors.
For some, there is a lingering caution from the 2008 housing crash that many people had never experienced before. "We have sellers who still believe they can't sell their home, who believe they can't find another home," he says.
"You have some who are in that underwater area too," he adds, referring to those in negative equity.
While there are also those who are reluctant to sell in a rising market. "They're looking at the horizon, thinking it's going to be great," he says.
How sustainable?
But with demand still high, those properties that are on the market are seeing their values rise. But for how long can this continue?
Michael Clarkson, owner of Snow Coast Real Estate, believes house prices cannot keep going up if people cannot afford to pay them.
The median income in Denver is around $55,000, Mr Clarkson says, which would qualify a borrower for a mortgage of about $255,000. But the median sold price for a single-family residential home is $280,000.
"I don't see how this market can be sustained," he says.
While he does not foresee a crash, he does expect a "softening" in prices of about 5-10% over the next couple of years.
Gary Bauer points out that Denver has never had the peaks and valleys - in terms of house prices and number of transactions - that other housing markets have experienced and will always be comparatively strong and stable because it has plenty of available land.
"Whenever you have land [to build on] you are going to have a market."
And Denver certainly is building new homes - you can't take a drive around town without seeing construction sites with flats going up. But everything that is being built now is, in effect, rental, to address the city's all-time low rental vacancy rate of 5%.
'Touch the emotions'
Mr Bauer acknowledges that frustration among buyers is high right now, with the added frustration of having to compete with investors buying up available properties and "flipping" them - doing them up and then reselling them for a quick profit.
He says home buyers have to "establish and manage expectations" and become more creative, and writing personal letters to sellers is one way of doing that.
"If you really want your offer to be looked at, you have to make your offer the best you can and that's not on the price alone. You have to touch the emotions," Mr Bauer says.
Back in Capitol Hill, Kait and Ryan are still hopeful that something will come up, though they have already had to manage their expectations.
"We are going to have to get the starter home now and then move into our dream home later," Kait concedes.
And though they haven't yet written to any sellers, it is something they would consider, if the seller were actually living in the property and so had more of a personal attachment to it.
"I would make a plea about us being first-time buyers and just wanting a place to settle down with our dogs," says Kait. "We just want a place to get started."