Hitachi to build Vietnam urban railway in $381m project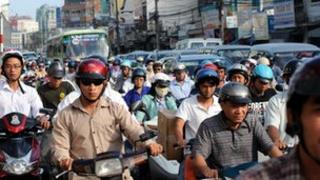 Japanese infrastructure firm Hitachi is set to build Vietnam's first urban railway in Ho Chi Minh City.
The project is valued at 37bn yen ($381m; £245m), and is expected to start operation in 2018.
Hitachi will deliver trains, ticketing machines, communications and signalling systems.
The company said it is the first of several planned railway lines in Vietnam.
It expects to take on a five-year maintenance contract after the line becomes operational.
Vietnam has seen a rapid increase in traffic, and public transport infrastructure is needed to ease congestion, Hitachi said.
The company also plans to expand sales activities for urban railway projects in other South East Asian countries.