Tour de France sponsors reap benefits of TV coverage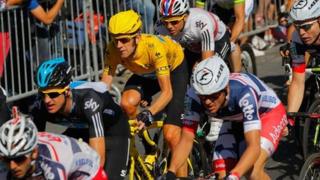 For a sport whose image has taken such a beating in recent years, there appear to be signs that cycling may be getting to the top of what has been a steep climb towards winning back respectability.
A decade of drug scandals was rounded off last winter with the biggest of them all - the Lance Armstrong affair.
It led experts to warn that the sport may struggle to attract sponsors. And one existing long-term sponsor, Dutch bank Rabobank, quit the sport after 17 years, warning that it was no longer sure cycling could be "clean and fair".
However, with the disgraced Texan slowly being consigned to memory, and the promise of a new broom at governing body the UCI, it seems the potential benefits of being associated with the sport - and its biggest race, the Tour de France - retain a strong lure.
For sponsors, the Tour provides huge on-the ground audiences (with some stages attracting crowds of up to a million people), three weeks of extensive global TV coverage, and a tech-savvy fan base which allows for new media and online marketing.
'Brand awareness'
For the Tour's newest team sponsors, US consumer tech and electrons firm Belkin - which took over the former Rabobank team - the attractions of backing the sport just before the 100th Tour de France seemed obvious.
"Cycling has a great reach from a worldwide perspective," says Chet Pipkin, chief executive and founder of Belkin.
"This is a perfect time for us to get increased visibility of our brand around the world, and we think that this cycling team can now take the Belkin name around the world by bike."
Major French sportswear brand Le Coq Sportif is another firm which has returned to the Tour in the past 12 months, coming back as a race sponsor and supplier last year after having been associated with the race from 1951 to 1988.
It makes the iconic "maillot jaune" or yellow jersey, worn by the race leader.
The firm's marketing manager, Cyril Du Cluzeau, points to the fact that the stages are broadcast on more than 200 channels worldwide to an audience of four billion people, and that the Tour de France is the third-largest sporting event in the world.
"Le Coq Sportif will benefit from having our logos seen worldwide and we believe it is an opportunity to increase brand awareness on an international scale, as well being able to get back to our roots of being a sports supplier," he says.
'Fantastic value'
An indication of the sort of exposure the likes of Belkin and Le Coq Sportif can hope to enjoy can be seen in recent research by Cycling News magazine in conjunction with sports market researchers Repucom.
They estimate that the average media exposure for each team taking part in the Tour de France is $70m (£45m), accounting for some 80% of the total such exposure a team can enjoy in a year.
For Dr Simon Chadwick, a sports business expert at Coventry University, who has extensively studied sports sponsorship, being involved with the Tour de France is a good deal.
"The companies are getting this fantastic worldwide global television audience every day of the tour, not to mention the millions of spectators at each stage - it is just such fantastic value for money," he says.
Dr Chadwick believes the drug problems experienced by the sport in the past actually provide another positive attraction for firms wanting to back cycling - mainly because after years of bad publicity there are favourable financial opportunities out there for would-be backers.
"I spoke to a cycling sponsor about what they were getting for their money - they said it was fantastic value because cycling as a sport is desperate to get any sponsors they can," he said.
However, Belkin's Chet Pipkin denies that this was a prime motivator as far as his firm was concerned, and that it had taken a lot of time looking at potential sponsorships, both in other sports and outside sport.
It also looked at the demographics of its customers and which sponsorship would work best before choosing cycling.
For another French firm which is a Tour partner, telecoms giant Orange, the event is about extending and pushing its tech capabilities as well as brand exposure.
It has been a partner for the past 15 years, supplying communications technology specifically designed for each stage of the competition, according to its length, route and weather conditions.
"The Tour de France is a highly prominent international event that is very important for Orange," says Stephane Tardivel, the firm's director of sponsorship.
'Honest approach'
But, despite these signs of a sport picking up momentum, some sponsorship challenges remain.
Cycling has yet to attract the big global brands such as Coca-Cola, McDonald's or Visa that football, for example, attracts.
Rather, the sponsors come from cycling's "heartland nations" in Europe, as seen with Le Coq Sportif and Orange, which is the brand flagship of France Telecom.
However, according to Mr Pipkin of Belkin, the future is looking bright.
"Like most people I feel uncomfortable when people are working outside the boundaries of what is honest and right," he says.
"But there has really been strong and enthusiastic expressions by the team and riders to take a very honest approach to the sport.
"Our deal covers three tours, but we hope to be involved with many, many more tours after that."