The world's best entrepreneurs?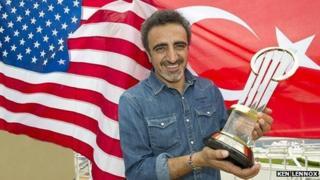 It is a preposterously grand occasion, held in the preposterously luxurious tax haven of Monte Carlo.
Every year since 2001, the business services giant Ernst & Young has put on an extremely glossy gathering to proclaim one dazzled hero the World Entrepreneur of the Year.
Fanfares blaze, fireworks light up the Mediterranean sky, and fellow entrepreneurs rise to salute the man who has been chosen as the winner.
So far the global victor has almost always been male, but just one female victor so far.
Anyway, the occasion is rife with elaborate male self congratulation, and big spending.
Monaco rolls out a red carpet (actually it's in E&Y's house colour yellow) to make sure those clever business people don't get lost on their three-minute stroll from the swish Hermitage Hotel to the swish Casino, where much of the event took place this year.
Monte Carlo is an acquired taste which I have never acquired. I don't go for the shops selling limos or £100,000 watches, or the dazzling harbour views of ridiculously competitive yachts, empty for the most part except for the immaculately accoutred crews busy rearranging the desk cushions.
I go to Monte Carlo to listen to the stories these entrepreneurs tell me as - one after the other— they saunter into an elegant Hermitage room and set themselves down on the sofa to review for me their lives so far.
I have to say that this is a drawn out and expensive process for them to get there in the first place. Winners are selected from regional contests who go on to national ones. And then those national winner - 49 of them this year - slug it out in front of a jury selecting the "best" one in Monte Carlo.
The next year's local rounds start just one week after this year's global contest ends. It must cost millions, but E&Y think it's worthwhile to mingle with leading business people, and to link the firm's name to wealth, success and ballyhoo.
Near death experience
But I go for the stories. This year there were some spellbinding ones.
Like the former merchant seaman who fell overboard on an Asian voyage and thought he was doomed. For two hours he floated on a refuse sack, and his life unrolled before him, as it traditionally does.
By the time he was providentially found and rescued by his ship, he had resolved to go home to Sweden and start some kind of business.
During his travels, he had noticed how the whole world was developing a taste for beer from abroad. And though alcohol retailing is of course a Swedish state monopoly, he managed to make a success of his newly created beer-importing wholesale business.
But then he heard of a failed brewery in the little town of Kopparberg. He went to see it, marvelled at the decaying brew hall... and scraped the money together to buy the place.
The brewery also made cider, mostly tart and non-alcoholic in Sweden. He started brewing sweet alcoholic pear cider which the Swedes liked. With few funds for advertising, he hit on a marketing ploy of making sure Swedes could buy the beverage when they travelled south to the Mediterranean on their summer hols.
Other foreigners along the Med got a taste for the cider that was there to keep Swedes happy. Supermarkets in places such as the UK are always on the lookout for new tastes to distinguish them from their rivals... and Kopparberg pear cider was one (unusual, distinctive) taste that they liked. Exports boomed.
Now Peter Bronsman the seaman survivor is a wealthy man... with a business that had to grow slowly and organically because there was not a lot of money to invest in flashy advertising and hell-for-leather growth. Big success in a European beverage market dominated by giants.
Charitable aim
Much entrepreneurship is about spotting a hole in the marketplace - and filling it. Sometimes a hole in the market is a personal need.
Ruth Oitjer was an Estonian hospital doctor who discovered she was allergic to the disinfectants used there every day. She started importing allergy-free products for her own use from the UK; friends and colleagues began asking for them.
Inevitably, that became a business, Now she manufactures more than 100 different biodegradable, low allergy products at home in Estonia, and half of Chemi-Pharma earnings comes from exports of something she began because she needed it herself.
Sometimes worldly success is not enough for a business person. Jim Ayala was born in the Philippines but he had the good fortune to get a good education first at home and then in the USA. A very good education.
His was a classic high flying career: a degree from Princeton and then Harvard Business School and a job with the consultants McKinsey; he ended up as head of their Asia energy practice.
But as he neared the age of 50, Jim was itching to do something more, so he unlearned his lofty top down approach picked up at HBS and McKinsey and went back to the bottom of the pyramid.
He went back to rural Philippines villages to see how solar powered projects could help people out of poverty... because many villages have always been far from the electricity grid.
For example, fishermen were spending a huge amount on their earnings on kerosene they used to light the lamps that attracted the fish at night. Robust solar-powered lamps cut costs, and improved village incomes. Education improved when schools and homes were effectively lit by solar power.
And Jim Ayala is using his McKinsey skills to muster partnerships to finance and distribute his solar kits in a for-profit organisation that makes his related not-for-profit social enterprise sustainable... by exporting some of the specially designed solar lamps for example.
Social entrepreneurs, charities and not-for-profits are still rather rare at the World Entrepreneurship Awards. But their stories are often more inspiring - and revealing -than the for-profit business founders who want to be rich and successful and then feel they have to start a philanthropic institution with the money they have made.
Dairy giant
The final story has all the elements of a classic business fable, but it's true. Hamdi Ulakaya was still a teenager when he came from eastern Turkey to the US to continue his education at business school... and in particular learn English.
He never finished business school... but listen to what he achieved instead.
His was a farming family back in Turkey, and he worked on a farm upstate New York. On a visit his father turned up his nose at the cheese he was offered, and that inspired Hamdi Ulakaya to do a bit of local feta cheese making.
Then he heard of a small yoghurt factory on the verge of closure in another upstate New York town. The big owners Kraft were pulling out. He saw it, he liked it, and his English was evidently good enough to persuade local banks to back him in taking over the business, helped by federal small business administration backing.
He closed down the plant for a pause, painted it up and then hit on a new product - creamy Greek-style strained yoghurt rather than the light and sweet version the Americans had become familiar with.
It sold: first case by case, and then by the thousands, to great big store chains and warehouses. Now it's exported to Australia and the UK.
Hamdi Ulakaya changed America's taste in yoghurt, adding much more space to the original facility as demand ballooned. He now runs the biggest yoghurt-making factory in the world.
His brand Chobani is now the largest in the USA. He's had to open another factory in far away Idaho to satisfy his nation-wide customers, and he turns over $1bn (£641m) worth of yogurt a year. All this from a standing start six years ago.
An amazing story from an entrepreneur who is now 41, and who came to the USA to learn the language.
And this farm boy turned food magnate in a business rife with cut-throat competition was the one chosen as the 2013 World Entrepreneur of the Year.
It sounds like luck when he and the others sit on the sofa and tell me their stories. But what you learn from listening to them is that entrepreneurs make their own luck.
It goes with the job.