Lloyds admits PPI payout lapses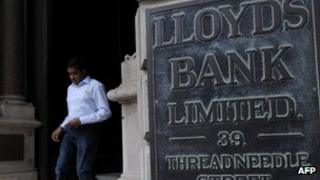 In a week when MPs and Lords are finalising a report on how to improve standards in banking, it is embarrassing for Lloyds that it has been accused of failing to show due care when processing complaints from customers who say they were mis-sold PPI credit insurance.
A reporter from the Times newspaper who went undercover at one of Lloyds' complaints handling centres, Royal Mint Court in London, says he was nudged to ignore possible fraud by Lloyds salesmen and also steered that most complainants would give up if rejected first time.
The regulator, the Financial Conduct Authority (FCA), told me it has been working with Lloyds to address the issues raised by the Times.
Lloyds insists that independently of the investigation it identified shortcomings - or what it calls "issues" - in the complaints handling centre, which is one of eight it operates.
In fact it says it already had concerns by around February this year, before the Times reporter signed up for a job there, and it was taking a look at procedures.
That may be so. And the FCA says it has been working with Lloyds on this for some time.
£4.3bn compensation bill
But it rather begs the question why it has taken many weeks for Lloyds to get to the bottom of what was going on and take action.
It also doesn't explain why the staff at the centre felt motivated to depart from best practice.
The centre was operated for Lloyds by the leading accounting firm, Deloitte. Lloyds said it terminated its contract with Deloitte in May and is retraining relevant staff.
To date Lloyds has paid out £4.3bn in compensation to 1.3 million customers who were victims of PPI mis-selling.
All banks have paid out far more in PPI compensation than they initially expected - and Lloyds is by far the biggest compensation payer.
In 2011, it pulled out of legal action taken with other banks to contest the regulators' insistence that compensation would be paid and it was the first bank to make big provisions against the cost of such compensation.
Lloyds says it has no evidence of shortcomings at its seven other complaints handling centres.
The bank insists that whatever went wrong at Royal Mint Court was not due to inappropriate incentives given to staff there.
As for the FCA, it is reviewing the way all banks handle and process PPI complaints, on top of its specific work with Lloyds.