SoftBank sweetens offer for Sprint Nextel shareholders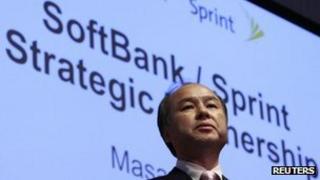 SoftBank has sweetened its bid for the third-largest US phone carrier Sprint Nextel, as it looks to become one of the world's largest mobile operators.
The Japanese firm upped its offer to $21.6bn (£13.9bn) for a 78% stake in the firm, from its previous bid of $20.1bn for a 70% holding.
That is still lower than US firm Dish Network's rival bid of $25.5bn.
However, in its latest offer SoftBank has increased its cash payout to Sprint shareholders.
"Our transaction offers significant value for Sprint stockholders and the opportunity to realise that value in just a few weeks, without the risks associated with any other potential transaction," said Masayoshi Son, chief executive of SoftBank.
If SoftBank wins approval from Sprint shareholders, it would be the largest overseas deal by a Japanese firm.
No counter bid?
Dish Network, a satellite TV provider, had submitted a rival offer in April, and has until 18 June to submit a fresh bid.
However, Sprint said it did not expect Dish to table an improved offer.
"We have expended substantial time and energy engaging with Dish over the past nine weeks, including an extensive due diligence process, but these efforts did not lead, in the special committee's view, to a proposal that was reasonably likely to lead to a proposal superior to SoftBank's," said Larry Glasscock, chairman of the special committee of the Sprint board of directors.
Some US officials have raised concerns over the proposed takeover, citing fears that Softbank's use of Chinese networking equipment could open up US networks to snooping and hacking.
Dish has also taken out full-page adverts in Washington newspapers warning that a Sprint-Softbank merger would threaten national security.
However, last month US regulators said they had found no such security issues.
The companies have since entered into a national security agreement with the US government.
Softbank's improved offer comes a day before Sprint shareholders were to vote on the bid. That meeting has now been adjourned until 25 June.